Are you planning to go camping to explore the hoods?
You can be overwhelmed with the experience, and anxiety may not allow you to prepare your snacks, but don't worry. Easy to make tasty campfire snacks are there for you.
You can make your best treat on the raging campfire and enjoy your delicacies while still hot.
Do not pack everything cooked from home. All you need to do is choose your favorite campfire snacks and buy the ingredients from a food store.
Read on as we uncover 25 easy-to-make campfire snacks to consider for your next adventure.
25 Tasty and Easy To Make Campfire Snacks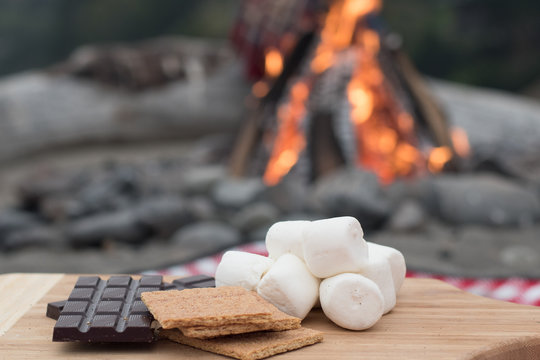 Campfire Cinnamon Roll-ups
What better way to start up your first night at a campsite than Cinnamon roll-ups?
This will spice up your stay and turn your camp into a night out at a 5-star hotel. It is delicious and kid-friendly. Get the recipe here to learn how to make campfire cinnamon rolls.
Kiss Pies
Kiss pies require few ingredients and are easy to make. We know many camping enthusiasts don't include ovens in their packs, but for the lucky few, this can be a great snack.
The kiss pies recipe is simple, and everything is readily available. Consider it for your next adventure.
Campfire Banana Boats
Banana boats are among the foods considered by the veterans but are still popular among modern adventures.
They are ideal for kids and adults, and nothing compares to their savory taste when grilled to perfection. You will be amazed by how easy it is to make it when you see the recipe.
Elote Campfire Corn
If grilling is one of your favorite things when camping, Elote campfire corn can be your next snack or meal.
This is much favored for its shelf-stable nature and handheld. You don't need additional utensils to hold them.
Besides, the remaining cobs are biodegradable. So, you don't have to think of environmental pollution. Find more details and Elote campfire corn recipe to make it.
Easy Campfire Tarts
Campfire tarts are a fun and delicious treat that everyone in your camp will love. Biscuits are toasted over a campfire and layered with pie filling and whipped cream.
It is that easy to make, isn't it? All you need are the refrigerated biscuits, canned pie filling, canned whipped cream, and tart on fire sticks.
You can also use a filling of your taste when making campfire tarts.
Campfire Orange Cinnamon Rolls
Are you ready to take your camping breakfast to a new level? You will agree that the fastest and easiest way is making orange cinnamon rolls for everyone.
Hollow out some oranges and stuff them with orange rolls. Throw them over the hot coals of your campfire and be ready for the snack in a few minutes.
Campfire French Bread Pizza
Big pizza fans can never miss out on this opportunity to make their favorite over a campfire. You, however, need to prepare almost everything before leaving.
All you need is a red-hot coal fire to cook your French Bread Pizza. Get all the details of making it and follow the procedure word by word.
We are sure you will enjoy the delicacies on your first night at the camp.
Grilling should be one of the favorite things to do when out camping. You can warm your body while waiting for the same heat from coal to cook your cheesy fries.
These will be ready in just 10 minutes. Like most camp foods on this list, cheesy fries are easy to make. Use this recipe to make grilled French fries at every BBQ session you have.
S'mores Campfire Cones
You can make campfire cones filled with your favorite s'more ingredients over a campfire.
If you never tried out, it is just the right time to give it a try because you are missing more than you think.
You need ice cream cones, aluminum foil, and s'more toppings, which can be peanut butter, mini marshmallows, chocolate chips, sliced strawberries, etc.
Follow the cooking instructions to make this one-of-a-kind snack.
Camping Quesadillas
This is the best food to make if you are camping with your peers. It is easy to make over the roaring campfires.
With this, you will make unforgettable memories with friends. Making it is not as easy as other camping foods on this list, but the reward is worth every minute spent.
Access the camping quesadillas recipe for your next expedition.
VEHHE Lighter, Electric Lighter USB Rechargeable
Campfire "Dump Cake"
We all like sitting around the campfire sharing stories. However, you can also spend that time making something yummy for all camp members.
You can be creative with this recipe to change the taste of the cake to suit you. You will surely never forget about the camping experience that comes with this.
Campfire Peach Cobbler
The campfire peach cobbler recipe has been passed down from generation to generation. That is because the peach cobblers offer the best taste and grilling experience ever.
Peaches are commonly used, but you can also consider fresh cherries, berries, and many other fruits that give you the desired taste. It is easy to make and takes the least time.
Campfire Pizza Pockets
If you want a camping activity that engages all camping members, making a campfire pizza pocket is one. There is a recipe with step-by-step instructions on how to go about it.
So, you don't have to be an expert in the kitchen to do it. The only task is to find your favorite pizza tastes, and the campfire will do the rest of the magic.
Once ready, you can pair it with ice-cold root beer or melty s'mores.
Road Trip Snack Boxes
What you pack in your road trip snack box determines the experience you will have. The foods should be easy to eat in the car and boost your energy to erect your camping tents and other things.
You should not get to your destination feeling tired and weak. You can think of a combination of fruit, pretzels, ants on a log, and crackers.
Loaded Campfire Nachos
Making loaded campfire nachos requires 10 minutes to cook over a campfire. If you are looking for something that you can easily do the first night at the campsite, look no further.
Though many ingredients are required to pull this out, you will agree that it is one of the easiest to make.
PB&J Granola Bars
Peanut butter and jelly granola bars look like a school lunch, but you can transform them into a perfect snack for your camping night.
They are packed with high calories that will re-energize you and all your companions.
Foil Pack Loaded Fries
Foil pack loaded fries is the best way to spend your summer nights away from home. They are mouthwatering fun snacks that are easy to make over the campfire.
Apart from the cooking instruction outlined here, you can tweak it to suit your taste preference by just changing the toppings.
Apple pie in a cup is the best camping recipe for kids. The ingredients are few and readily available.
You don't have to walk from one food store to the next to collect what you need to make it for your children.
The cooking procedure may be involved, but you are sure to melt the hearts of your kids with this treat.
S'mores in a Bag
Another perfect treat for your kids is the s'mores in a bag. If you are making them for yourself, you will recall your old school days when your mom used to pack them for you.
They are still fun, even to adults planning a camping trip or scouting events. And the good news is that you can make them in just two steps.
Tacos in a Bag
The cooking time for tacos in a bag is just 10 minutes and can be completed through an easy-to-follow procedure.
It is a highly nutritious and delicious snack for everyone in your camp, whether adults or children. The food is rich in calories, proteins, carbohydrates, fats, and minerals.
Apple Bites
Any outdoorsy person should be familiar with the recipe for making apple bites. It is simple to make.
You can even add more sugar to make it sweeter. This vegan diet will leave you feeling warm and cozy all night long. Try it out to discover what you have been missing on your camping nights.
Campfire pies recipe is very flexible. You are in charge of the appearance and the taste. And since the appearance is insignificant on the dark camping night, let's focus on the flavor.
If you need sweeter pies, consider Nutella, sliced bananas, peanut butter, or any other you can easily find. You can also use cinnamon swirl bread or brioche loaf.
Pie Iron Campfire Pizza Pie Recipe
After a long day exploring the nature around your camp, you need something that satisfies your hunger, and plain grilled cheese cannot do it.
That is when you should think of this campfire pizza pie recipe. With the right ingredients, you will be filled with delicious and healthy food.
You can also customize the taste that keeps kids coming for more!
Caramel Apple Pudgy Pie Recipe
This caramel apple pudgy pie recipe will take your camping experience to the moons. It offers irresistible sweet and savory flavors that both friends and family will enjoy.
Nothing can beat the taste of a hot dessert after a tiresome day in the woods. Besides, you only need a few ingredients to make it in easy steps.
Strawberry S'Mores Recipe
Strawberry s'more is here for s'more lovers. We know of people who cannot end their camping or outdoor activity without making them, and we understand their reasons.
Strawberry smores are very sweet and addictive once you are absorbed into the taste. You will keep asking for more. If you have never tried them, here is the recipe to make them.
Flame King YSNVT-301 Multi-Function Portable Propane BBQ Grill Camp Stove
Some Thoughts
All the recipes described in this article are popular among the outdoorsy group and are easy to follow. You don't need any kitchen experience to try them.
Besides, you can always tweak them to match your taste preferences. Always think of a way to make something new and not a replica.
With time, you will be the one to tell people about easy-to-make campfire snacks.
Thank you for your time at the Em Offgrid reading this article. We appreciate your time and encourage you to share the information with your friends who also like camping. 
Also read: What Did Pioneers Burn Most In Their Campfires? – 3 Important Things You Should Know