Insecurity is a matter of concern that should be dealt with at the national and personal levels. Whether you are walking on the city streets or through the jungle, it has become unsafe.
You never know who or what is after you, and that is why we have this topic on top 9 choices for revolver EDC.
Revolver EDC will boost your security and help you fight back in case of an attack. These revolvers are reliable, inherently safe, and concealable. We have chosen the nine best revolvers EDC to discuss in this article.
Also, we will mention their pros and cons. So, keep reading to pick your best weapon to boost your security.
What Is An EDC Revolver?
EDC is an acronym that refers to everyday carry. When used in this context, it means the type of revolvers you can carry with you when going out.
There are different EDC revolvers on the market today. The very many options can be overwhelming if you have no experience with guns.
They come in all designs, capabilities, and colors. So, it is upon you to choose the best EDC revolver that will work for you.
EDC revolvers are great defensive tools that enhance your security. They are helpful if you are attacked at home or on the way by anything. However, you need a license to possess one, and that depends on the state laws.
US PeaceKeeper Pistol Case
Top 9 Choices For Revolver EDC
You should not allow an enemy to ruin your life or harm your family. With the best EDC revolver, you are protected wherever you are or go.
These guns are compact and portable, giving you an easy time just putting them in your inner pockets, purse, or other accessible places.
We have researched and chosen the top nine EDC revolvers to discuss in this article. You can consider possessing any of the guns in the list below:
Ruger LCRx is one of the most concealed EDC guns popular for rock-solid performance. Some revolvers are popular because of their affordability.
But this one appears at the top of our list for its quality build and performance. It only costs about $700 at many retail shops.
Ruger LCRx is designed with an aerospace aluminum frame, making it a great EDC revolver. It also features a grip peg that allows you to replace the grip with a style of your choice.
This revolver has a PVD cylinder finish and an overall matte body finish. It extends a length of 4.5 inches and only weighs 13.5 ounces. The carrying capacity in the chamber is five.
---
This Smith and Wesson revolver with crimson trace laser is designed for accuracy and efficiency when used for self-defense.
It features a pinned ramp front sight, integral rear sight, and adjustable crimson trace integrated laser. This EDC revolver is also designed with a polymer grip and a stainless-steel barrel.
This gun has an overall length of 6.6 inches and a weight of 14.4 ounces and has a capacity of 5, meaning you can fire five rounds from it. This revolver is a .38 Smith & Wesson Special +P caliber that is handy in many applications.
Unlike other similar EDC revolvers that are overpriced, this gun sells at $539 at any retail outlet countrywide.
---
This is a 38 S&W SPECIAL +P revolver designed with hallmark performance center enhancement. It features a sleek two-tone finish, crimson trace LG-105 laser grips, and a performance center tuned action.
With this EDC revolver, you can accurately aim at the target, thanks to its laser technology.
Smith & Wesson Performance Center 442 is made with a stainless-steel cylinder and barrel and an aluminum alloy frame.
It extends a length of 6.31 and weighs 15.0 ounces with a carrying capacity of 5 magazines. The gun retails at $802.
---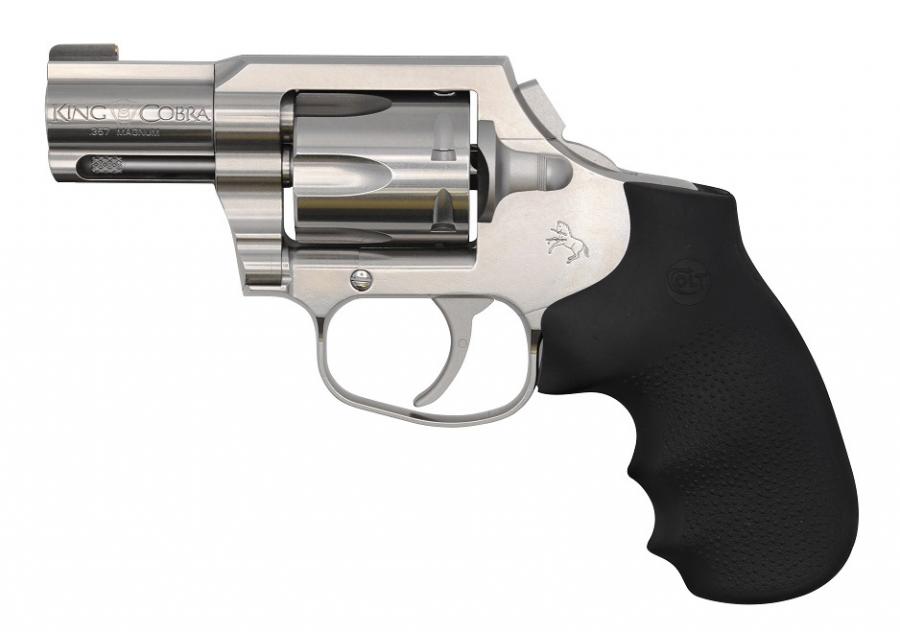 This Colt King Cobra Carry is a concealed carry .357 Magnum revolver with a 2-inch barrel and bobbed hammer.
Other specifications include black Hogue overmolded grips, a barrel length of 2 inches, and a weight of 26 ounces.
The size, trigger, and sight combined with excellent construction and body finish of this EDC revolver make it one of the choices to consider.
It is an accurate revolver with an additional round for extra protection. Get it at your nearest gun shop at $899.00 to enhance your personal security.
---
Ruger SP101 Spurless DAO is an EDC double-action revolver you can depend on to provide you security on the go.
It is designed with a spurless hammer that makes it safer to carry around and use. It will not accidentally fire unless you deliberately pull the trigger.
It also has a smooth double-action trigger pull, allowing the operator to quickly fire accurate shots. Other notable features include low-profile front sight, solid top strap, and easy assembling and disassembling.
This 5-round capacity revolver is designed for safety. There is no way it can accidentally fire without the trigger being pulled.
It is also compact and lightweight, making it easy to carry with you. This Ruger Sp101 Spurless DAO now retails at $859.
---
This model of Smith and Wesson is a 357 Magnum, 38 S&W SPECIAL +P caliber revolver with a capacity of 7 magazines.
The two extra rounds you get from this EDC gun ensure that you don't get overwhelmed with your attacker. You can own it at just $919.00.
Smith and Wesson 686 Plus is 8.25 long, weighs 37.4 ounces when fully loaded, and features all-stainless-steel construction.
The revolver has a red ramp front sight, adjustable white outline rear sight and is the first one on this list with single and double action capability.
---
Kimber K6s is the world's lightest 6-shot, .357 Magnum revolver, featuring superior ergonomics, smooth match-grade trigger, rubber grip, and satin finish and weighs 23 ounces when not loaded and extends an overall length of 6.62 inches.
This double-action-only revolver is an ideal EDC gun.
Its design is composed of a stainless-steel frame material with a brushed stainless finish and serrated backstrap. The overall design is outstanding, making it a perfect carry revolver.
We liked it for its ability to fire six rounds with pinpoint accuracy and a comfortable feel for an extended shooting session. Kimber K6s now retail at $985.
---
The quick specs of Smith & Wesson 642 Airweight include a lightweight alloy frame, stainless steel, and a snag-free enclosed hammer.
It is a .38 S&W SPECIAL +P caliber revolver, rated for continuous +P use. This EDC gun model has three different hammer designs, making it popular in the market.
Smith & Wesson 642 Airweight is a double-action-only revolver with a capacity of firing five shots.
The overall length is 6.3 inches and weighs 14.4 ounces. It is one of the most affordable EDC revolvers we have on this list, retailing at $ 517.00.
---
Nighthawk Custom Korth Mongoose is the most advanced .357 Magnum/ .38 Special EDC revolver we have on this list, and its price can justify that.
This gun now retails at $3,699.00 at various outlets in the United States. It holds six rounds of ammunition in the cylinder to give an extra level of security for an extended confrontation.
The frames and all other parts of this revolver are machined from the highest quality steel grade available. Its overall design and build give it a class of its own.
Everything is skillfully crafted for the best look and functionality never seen in any revolvers in the market.
Nighthawk Custom Korth Mongoose has a total length of 7.3 inches and weighs 2.1 pounds – light enough to be carried around in the pocket.
---
Pros and Cons Of EDC Revolver
EDC revolvers are very beneficial when dealing with insecurity. They are designed to suit the purpose, but they also have some disadvantages.
In this section, we will highlight the pros and cons of EDC revolvers.
6 Pros Of EDC Revolver
Simplicity of Operation: EDC revolvers do not have a slide to be pulled back.
Reliable and Durable: Simplistic in design with few moving parts that can fail.
Easily and Effectively Concealed: EDC revolvers are small in size, making them easy to conceal.
Lightweight: Most are designed with aerospace aluminum alloys that are lightweight.
The ability to work with virtually any bullet type available: You can get EDC revolvers for .38, .357, 41, 44, and even bigger ammunition.
Reasonably Priced: Due to their simplistic design and size, these everyday carry revolvers are the most affordable in the market.
4 Cons Of EDC Revolver
Concealed gun reduced round capacity: Most EDC revolver cylinders can only hold five to eight bullets.
Short sight radius: The short front and rear sight distance make users less accurate.
Trigger pull is significantly heavier: Disadvantageous to people with below-average finger strength because they cannot make quick shots.
Reloading a revolver is a challenge: Limited capacity means you need to reload it often. That requires training of some sort.
Double-Padded Gun Cases for Pistols & Revolvers
Cedar Mill Fine Firearms Gun Pouch Pistol Case – 9mm Large Carrying Rug w/Zipper. Compact, Double-Padded Gun Holsters, Cases & Bags for Pistols and Revolvers w/Extra Storage
UNIVERSAL FIT – Fit most revolvers, and automatics as large as the DE .50. At 14.5" long x 7.25" wide, our soft handgun cases are big enough to fit most 1911's, full-size automatics, 9mm, or 4" and under revolvers – plus an ample room for sub-compacts and an extra magazine.
UNBEATABLE PROTECTION SEAL - Protection at its finest! Our soft pistol case is lined with soft padding that protects your firearm from scratches and dents while you travel. The soft interior lining keeps your gun safe during storage or transportation.
EASY TO CARRY - This nylon pistol case for handguns weighs less than 8oz, our pistol case is easy to carry around with you on the go! Plus, its compact size makes it easy to store in your car or closet when not in use. With a durable zipper, you can rest assured that your guns will stay safe inside the case.
Conclusion
EDC revolvers are good guns to consider for self-defense. They are reliable, lightweight, easy to use, and last longer.
Visit any retailer to buy your preferred revolver if you are licensed to own one. You don't know when an enemy will attack!
We invite you to read other related articles at the Em Offgrid. We are also thankful for your time reading this article here.