Did you know that some weeds on your lawn are actually healing plants? It is not easy to tell, but some of them are actually life-saving plants.
Healing weeds comes in all colors, sizes, and structures. You only need to know how to identify them and their health benefits.
Read on to discover some of the most common healing weeds you can use for treating different health conditions and ailments.
17 Healing Weeds and How to Use Them
Weeds are all around us, but we only fail to recognize their medicinal value. If you live off the grid, this knowledge is paramount.
There are thousands of plant species that we can use to treat different health conditions and ailments, but we will only highlight 17 easy-to-find ones.
Some of the healing weeds you can use for medicinal purposes include the following:
Ground Ivy/Creeping Charlie
Plantain
Chickweed
Dandelion
Cleavers
Wood Sorrel
Lambsquarters
Goldenrod
Wild Garlic
Feverfew
Yarrow
Let's dive into the details of each to learn about their health benefits.
Ground Ivy/Creeping Charlie
Ground Ivy, also known as the Creeping Charlie, is characterized by kidney-shaped, toothed leaves and produces purple flowers.
It usually blossoms between March and June, depending on the location or climatic conditions.
This healing weed commonly grows in lawns and home gardens that remain wet most of the time. Its leaves are the ones with healing power.
Dried and crushed leaves treat bronchitis, coughs, and other respiratory conditions. You will notice its pleasing aroma as you grind it.
However, do not let your horse munch on it because it can poison the poor animal.
Plantain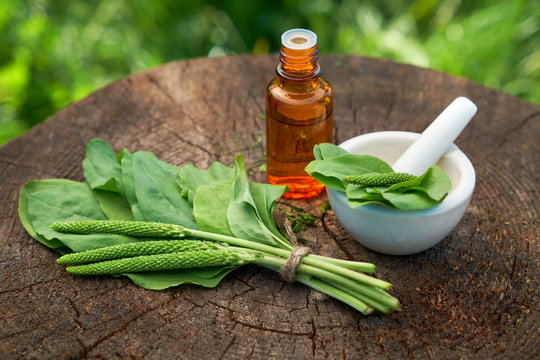 There are many species of plantain across the United States, but the most commonly spotted one is the Plantago major. Some people also refer to it as broadleaf plantain.
This species has conquered the United States because of its invasive power. You will find it growing even on cracks and sidewalks.
The leaves and seeds are used to initiate wound healing. Boiled leaves are placed on a clean wound.
If you are looking for one, choose wide, oval leaves and green flower spikes. These are the most effective.
However, plantain has a laxative effect. You have to use it cautiously.
Chickweed
Chickweed is one of the widely spread healing weeds found in almost every part of the world. It grows fast and covers the ground, producing oval leaves around its stems and white flowers.  
You can easily confuse chickweed with scarlet pimpernel. The two have similar structures, but you can identify chickweed by its hair line that changes between each node.
Chickweed has a sweet, gassy flavor, the reason its use in salads and sandwiches is widespread. It is rich in vitamins A, B, and C, potassium, and calcium.
Medicinally, chickweed is an essential ingredient in making a poultice, diuretic, and emollient. This type of tea treats dry cough.
Dandelion
Dandelion sprouts in spring. It bears bright yellow flowers and commonly grows on the lawn or between the cracks on driveways and sidewalks.
Many homeowners think Dandelions are annoying weeds because they litter the driveways and walkways.
Some even apply herbicides to eliminate them. However, that should not be the case because of their medicinal properties.
The roots, flowers, and leaves are all edible and have health benefits. Use them to prepare wine, syrup, coffee, or capers.
Dandelions help to stimulate digestion, treat warts, and relieve the symptoms of common cold and PMS. They are also rich in vitamins A, B complex, C, D, and minerals, including zinc, potassium, iron, etc.
Cleavers
Cleavers got their name from their dispersion mechanism. They often cling to clothes, pet fur, and anything else they can hook on. Cleavers mostly grow in areas with constant moisture.
Cleavers look like sweet woodruff, producing only five leaves that spread from one central stalk. At maturity, small white flowers pop out.
Shoots and leaves are the parts with medicinal benefits. Consider a young plant or slightly boil the leaves of a mature one to soften the spikes that can get stuck in your throat. They are used as a diuretic and salve.
Wood Sorrel
Wood Sorrels are commonly available weeds closely related to Oxalis and Rumex. They are identified by their tart, apple-like flavor when you chew the leaves.
They are tiny plants with only three heart-shaped leaves that spread out from a central stalk and produce yellow flowers.
Wood Sorrels commonly grow under moist shades. Dried or fresh leaves have been used for centuries to cool skin, soothe the stomach, and as a diuretic and astringent.
They can also treat scurvy, fever, sore throats, nausea, urinary tract infections, etc.
However, you should moderate the quantity of Wood Sorrels you eat. They contain oxalic acids that can compromise your digestive system.
12, 1 oz Dropper Bottles for Essential Oils
Sale
Lamb's Quarters or Lambsquarter
Lambsquarter grows about 5 feet tall. It is characterized by dull pale green leaves, thin stalks, and its taste like spinach.
Lamb's quarter is a highly nutritious weed. It is rich in fiber, protein, and vitamins A and C.
This weed is also high in minerals such as manganese, calcium, copper, and iron, as well as omega-3 and omega-6 fatty acids.
Many people use Lambsquarter as food, but you can also consider it for its health benefits.
The leaves can be chewed or ground into a paste and applied on insect bites, minor scrapes, sunburn, injuries, and inflammation. You can also put them on sensitive areas to relieve arthritic joint pain.
Goldenrod
Goldenrod is a naturally-occurring weed known for its medicinal properties worldwide. The plant has been instrumental in healing wounds, diabetes, tuberculosis, and other respiratory diseases.
This weed produces flowers that come out as an inflorescence or narrow pyramid panicle. It is characterized by many horizontal branches and densely packed golden yellow flowers.
Goldenrod has an astringent, spicy, and bitter taste. That comes from the act of drying the hub. When the leaves are dried, they can be used to stop bleeding and initiate the healing of skin injuries.
You can also use it as a diuretic to increase urine flow or ease muscle spasms.
Wild Garlic
Wild Garlic is found in small clusters, often covering the ground in peak seasons. They produce vibrant green leaves that are long and pointed but smooth around the edge.
If you want to use them for medicinal purposes, pick them when still young, usually in mid-spring.
We are all familiar with how Garlic tastes. That is the same flavor you will find in Wild Garlic, but it is more mellow and gassier.
Wild Garlic has been used for years because of its health benefits. The roots are used in treating high blood pressure and digestive problems.
Wild Garlic also has antibacterial and antiviral properties because of its high sulfur content. You can drink it as tea, or macerated oil, or eat raw in salads and sandwiches.
Feverfew
Feverfew is a perennial weed belonging to the daisy family. It often grows in recently cultivated areas. 
It looks like a small bush and grows almost throughout the United States. This weed is characterized by small, white, daisy-like flowers featuring yellow centers.
Feverfew gives off a bitter odor, which is also reflected in its taste. It will likely irritate your mouth. So, the contact time should be short when using it for its health benefits.
The whole plant has medicinal properties, but dried leaves are the most commonly used. It helps relieve migraine headaches and arthritis.
Yarrow
Yarrow makes a thick underground cover, the reason most gardeners don't want it.
It produces small green feather-like leaves that spiral around the stem and white flowers. This weed grows just anywhere the conditions are favorable.
Yarrow is edible. The leaves can be eaten raw as salads or for topping sandwiches. Crushed leaves smell like tarragon.
A tincture made from Yarrow can stop bleeding or treat hemorrhoids. You can also take it internally to prevent blood clots and lower blood pressure.
Mullein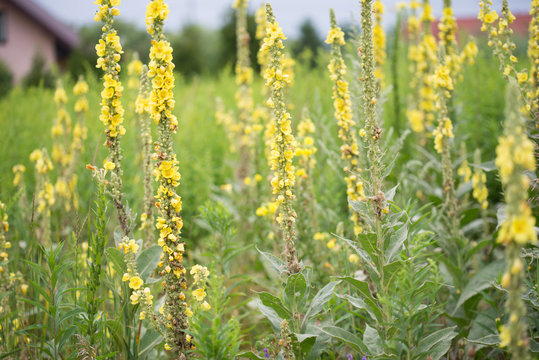 It is rare to see Mullein in your garden or yard. If you need it, consider strolling away from your home, and you may just spot it by the roadside.
This weed is easily identifiable by its gray, hairy leaves and upward-pointing flower spikes. It grows to about 7 feet tall and is covered in yellow flowers.
The leaves are boiled in milk to produce sap for treating sore throat. You can also use its flowers and leaves to make tea.
Stinging Nettle
Stinging Nettle is a famous weed for the wrong reasons. It is an enemy of many people, including children who brush against it unknowingly. If you have been in that situation, you clearly understand how it feels.
The plant has oval or triangular, heavily toothed leaves and is commonly found in shady areas. You should wear gloves when harvesting the weed to protect you from their stinging hairs.
On the brighter side, its young leaves are delicious and nutritious. They are rich in protein, calories, and calcium.    
Stinging Nettle can be used as a diuretic and anti-inflammatory weed. Fresh leaves can also ease sciatica by rubbing them on the lower back.
Chicory
Chicory is an ideal substitute for your coffee, or you can use it as a veggie. You can easily spot it wherever it is with its beautiful bright purple flower. It grows up to about 3 feet tall by the roadsides.
The roots, leaves, and flowers are all edible. You can roast them for making coffee or use leaves for a spicier flavor. Alternatively, you can harvest the crown and remove the green sections.
Chicory has diuretic, laxative, and liver-stimulating properties, making it one of the most essential medicinal weeds.
Curly Dock
Curly Dock is a three-sided, oval-shaped weed with a sharp point on one end. Its seeds are enclosed in a leaf-like capsule that browns as the plant matures.
These seeds usually remain on the dead stalks until spring.
Curly Dock is known for its yummy, sour flavor. That is because of the high levels of oxalic acids in it. So, you should avoid taking too much of it.
A poultice from the plant roots treats iron-deficiency anemia, blood purification, liver decongestion, and constipation.
Red Clover
Red Clover commonly grows in wild meadows in most parts of the world, including Europe, Asia, and America. It belongs to the same family as peas and beans and is known for its bright pink flowers.
Red Clover is an effective herb that has been used for centuries in easing menopausal symptoms, reducing bone loss, and lowering the risk of can and heart diseases.
You can make a red clover tea by adding 4g of dried flower tops to a cup of boiling water and steeping for about 10 minutes.
Alternatively, you can take red clover herbal supplements orally to treat the listed conditions.
Violets (Viola sororia)
Violets are creepy and invasive. They can find their way into maintained lawns, making many people hate them. But did you know they are among the healing weeds on this list?
Violets produce yellow flowers and feature heart-shaped green leaves. These can be used in many ways, including making candies.
The leaves have diuretic and laxative qualities, and roots can be used to induce vomiting in case of food poisoning.
Gorilla Grip Heavy Duty, Unpolished Granite Mortar and Pestle Set
Sale
Gorilla Grip 100% Granite Slip Resistant Mortar and Pestle Set, Stone Guacamole Spice Grinder Bowls, Large Molcajete for Mexican Salsa Avocado Taco Mix Bowl, Kitchen Cooking Accessories, 1.5 Cup, Gray
BUILT GORILLA GRIP TOUGH: the last mortar and pestle you will ever buy, the Gorilla Grip Mortar and Pestle is ultra durable and built tough; featuring a heavy duty grinding pestle that crushes and mashes ingredients effortlessly, the mortar and pestle is ultra durable, and scratch resistant; its heavy base helps keep it in place and resist slipping and sliding, even while crushing the heaviest of ingredients
100 PERCENT NATURAL GRANITE: Gorilla Grip granite is sourced from natural granite mines, then handcrafted with care; granite is cut, shaped and polished into the mortar and pestle; natural granite has been used for generations due to its natural durability and long lasting use; no more heavy mixers or food processors, this granite mortar and pestle takes the effort out of food prep while also helps release the natural flavors of the ingredients
GUACAMOLE, SPICES, NUTS, AND MORE: not just for guacamole, the mortar and pestle is a great option for nearly any ingredient; crush up spices and herbs; create homemade pesto by grinding up nuts and seeds; serve up fresh dips; even a great choice for homemade dressings and salsas; impress your entire guest list with the tastiest dishes ever
FAQs
Can mugwort be toxic?
Yes. These weeds contain thujone, which can be toxic to humans if taken in large quantities. So, you can stay safe by limiting the amount you use. The thujone is usually at non-toxic levels in the plant.
What herbs grow like weeds?
The list of herbs that grow like weeds is long. Let's just mention a few of them below:
Amaranth (Amaranthus retroflexus) …
Arnica
Burdock
Chicory
Cleavers
Clover
Comfrey
Plantain
Chickweed
Goldenrod
Wild Garlic, etc.
What stops weeds from growing?
People have devised ways of suppressing weed growth. The most common and eco-friendly approach is mulching. Covering weeds will finally kill them because they cannot access sunlight.
Conclusion
You may be weeding away critical herbs from your garden. Healing weeds come in all forms and shapes, and what you are killing today can be your cure.
This herbalist knowledge is crucial, especially if living off the grid. You can still access emergency medication just by touring your lawn or garden.
Thank you for reading this article at Em Offgrid. We appreciate your time and ask you to help us spread this information by sharing it with your friends.