When going to live off the grid, you will need a gun. We do not encourage people to have weapons. But in this case, it is more of a necessity rather than a choice. Multi-Caliber guns come in various types for different uses.
We will talk about the 7 most common types of multi-caliber guns and their costs in this post. These weapons are ideal if you are choosing an off-grid lifestyle. Whether for hunting, securing, or any other reason, caliber guns suit it all.
Reading this post will give you the information you need about different caliber guns. It presents to you many options to choose from. Keep reading!
Safety Closure
Possessing weapons such as guns without a course is usually not encouraged. First, it is an illegal weapon in most countries, and acquiring a license is time-consuming. Living off the grid is a good enough reason for the authorities to grant you permission.
Multi-caliber guns are crucial in everyday life, especially for an off-grid lifestyle. Its uses are unlimited. However, you have to be cautious when in possession of one because of the dangers and damages it can cause.
Remember, safety should be before anything else. Always load only compatible ammunition into the firearm and keep it safe if not in use. Underaged children should not access the weapon.
What Is A Multi-Caliber Gun?
Multi-caliber guns are becoming popular day by day. It is a rifle designed to use different cartridges by making just a few adjustments to the components. It is an old technology that dates back to 1943.
This initial design has undergone many modifications, resulting in the different types of multi-caliber guns we have today. These guns have many uses that we cannot exploit in this short post.
7 Common Types Of Multi-Caliber Guns
Any .357 Magnum Revolver
.357 Magnum Revolver is the most popular handgun out there. Whether you need a rifle for self-defense, hunting, or any other use, these gun types are versatile enough to suit the purpose.
With a .357 Magnum Revolver, you can fire up to six rounds. Each of the rounds delivers the best performance you would expect from a rifle of this size. Its design has also been simplified to make it easy to use. Both beginners and experienced gunmen can use it.
The size, color, and finish vary from one model to the next. The barrel length ranges from 1.87-6.5 inches, depending on the brand and intended use. The .357 Magnum Revolver weight varies from 2.42-47oz.
The color is dependent on the material and finishing. Most of these .357 Magnum Revolvers are made of steel or polymer to reduce weight. The price of .357 Magnum Revolver also ranges from $500 to well over one thousand dollars.
Benefits
Lightweight
Fire Up To Six Rounds
Affordable
Easy Operation
Drawbacks
Medusa Model 47
The Medusa Model 47 revolver was manufactured by Phillips and Rodgers Inc in the 1990s. The gun is famous for it can chamber up to 25 different cartridges in the 9mm caliber family. It weighs 46 oz and features a barrel length of about six inches.
The cylinder of Medusa Model 47 is made up of mil-spec 4330 modified vanadium steel, and the frame is based on Smith and Wesson K-Frame. The frame is made very strong to handle the various rounds that can be fired from this gun.
The barrel is made of 4150 chrome-moly steel and is also fluted to reduce weight and cooling. It can extend up to six inches in length, depending on the model. This revolver type is popular among police officers, but licensed civilians can also possess it.
The price varies from one vendor to the next, but you can find it for about $899.
Benefits
Small
Compact
Both Double and Single Action
Lightweight
Strong Frame
Drawbacks
Bond Arms derringers
Bond Arms derringers are relatively small in size, with a barrel length ranging from 2.5 to 4.25 inches. This gun brand also differs in caliber. With just one gun, you can fire 22LR and 45 long Colt and anything in between. Everything about its design shows a high-end innovation.
Bond Arms derringers can fire up to two rounds because of their small and compact size. It is designed to be easy to hold and operate. You do not need any experience to use it.  
The single-action operation and downward-favoring trigger press make it unique. The recoil is severe because of the relatively short barrel but can be easily managed.
It will cost you about $450-$1,000, depending on the model of choice. If you want an extra barrel, you can buy it within the price range of $100-$200.
Benefits
Small
Compact
Lightweight
Innovative Design
Drawbacks
Single-Action
Fires Only Two Rounds
Savage Model 42 Over-and-Under Rifle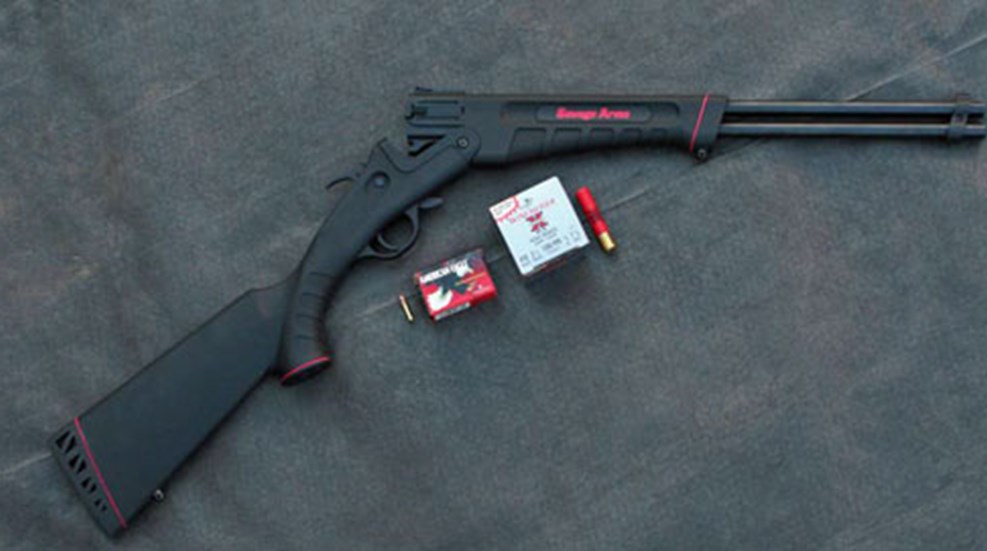 The Savage Arms of Massachusetts is a versatile weapon to possess for self-defense. It weighs about six pounds and features a 20-inch barrel. The overall length is 36 inches, making it an ideal choice for a family gun. Both young shooters and elderlies can use it.
The weapon uses a break-open action, making it load 22 long rifles or 22 Winchester Magnum. There is a lever to help you select which of the two barrels fires. It is ideal for its long-range shooting capability. Therefore, it is recommended for hunting.
Savage Model 42 will cost you about $500 for new models and about $200 for used models. You can also find other new models designed with synthetic stock for much less.
Benefits
Affordable
Long Shooting Range
Drawbacks
Frontier Tactical War Lock Multiple Caliber System and Rifles
Frontier Tactical is a relatively new manufacturer based in Florida. However, they have claimed their market share with their multi-caliber rifle. It is designed with a highly customizable AR platform. This allows you to quickly switch calibers, load, and fire over 90 different calibers.
6.8, 6.8 SPC, 6.8mm Remington SPC II, 6x45mm, and American 30 BHW are some of the calibers on the list. This tells you how flexible the weapon is regarding usage.
The weapon will cost you about $1,300 and comes as a complete set with warlock components.
Benefits
A Complete Set
Many Calibers
Drawbacks
Winchester PDX1
You need ammunition for your handgun. With the Winchester PDX1, you can protect your home and family against all possible threats. They are engineered to maximize terminal ballistics through a special bonding process.
The Winchester PDX1 ammunition is made with a hollow point and jacket notch to provide positive yet consistent expansion and unrivaled performance through different barriers. The bullets have nickel-plated shell cases, which ensure smooth chambering and ejection for consecutive shots.
The gauge, weight, and price vary to meet the different needs of gunmen.
Benefits
Controlled Expansion/Controlled Weight
Welded Bullet Jacket
Nickel-Plated Shell Case
Designed for Maximum Terminal Ballistics
AR-15, 5.56mm (Nominal)
AR-15 is a weapon produced by Colt. It is designed with aluminum alloys and other synthetic materials to reduce weight. This semi-automatic rifle can fire up to 20 or 30 rounds, depending on the magazine box attached.
The barrel length of this weapon ranges from 16 inches to 24 inches and uses a .223 Remington or 5.56x45mm cartridge. It has a high firing range of about 550 meters. Its price also varies considerably, from $500 to well over $2,000 for a new weapon.
Benefits
Long Shooting Range
Adjustable Front/Rear Iron Sights
Detachable Carrying Handles
Picatinny Rails- For mounting scopes and other sighting devices.
Fires Up to 30 Rounds
Drawbacks
Expensive
Bulky
Heavily Regulated by State Laws
Why Use A Multi-Caliber Gun?
We have recommended using multi-caliber guns in this article, but why should you prefer them to other models? Buying a weapon is investing in security and convenience. Choosing a multi-caliber is more beneficial than other options, and here are the reasons:
Eases logical concerns and saves weight since they are small and compact.
Multi-caliber guns make it possible for some attractive tactical possibilities you can explore.
These guns can fire many rounds and different calibers, making them very flexible and versatile.
Fun Facts
If I have a chance, and of course, my wallet is large enough, I will choose to buy a multi-barrel gun. Have you ever heard this sentence: "Beware the man with the gun"?
Conclusion
It costs a lot of money, but if calculated carefully, you will find it saves money and space than buying many different guns. With just one weapon, you can do many things such as protecting the territory, hunting, etc.
 As always, thank you for choosing and reading "Em offgrid"! If you are reading this article of ours, thank you, and we hope you have found the information useful. Check out our other posts and guidance on the off-grid lifestyle.