Many people prefer pickled garlic over raw garlic cloves. What is the difference? Does pickling garlic destroy nutrients? A No is a short response.
Raw garlic contains soluble vitamins such as Vitamin C and B that can be destroyed by heat. In a garlic pickling process, the cloves are exposed to heat for the shortest time possible.
Precisely, it is steaming, which only activates the enzymes.
Pickled garlic has many benefits that come with it, and making it is a straightforward process. Continue reading for more information and a pickled garlic recipe.
Does Pickling Garlic Destroy Nutrients?
No. The pickling or fermentation process does not destroy nutrients but may change the content depending on the method used.
The most volatile vitamins are B and C. These are easily destroyed by heat. But pickling involves briefly heating garlic, which does not dissolve these essential vitamins.
Additionally, pickled garlic has enhanced bioactivity. The components improve digestion and promote better health.
Garlic may also taste better. Pickled garlic, or black garlic, performs different functions in the body. These include antioxidation, anticarcinogenic, anti-inflammation, etc.
Benefits of Garlic
Many people like using raw garlic for its many benefits apart from changing taste and making food more aromatic.
Raw garlic is rich in vitamin B, C, and K. Vitamin B helps your body extract and absorb nutrients from the food you eat.
Vitamin C helps your body fight pathogens such as fungi and bacteria present in the food. Vitamin K helps in blood coagulation, while other minerals enhance brain functions.
Lastly, fresh garlic does not alter the pH or conditions in your digestive system. The microbes can continue to function normally.
Benefits of Pickling Garlic
Many people use fresh garlic, but they miss the benefits of cooked or pickled garlic.
This type may not be as rich in vitamin C and B as fresh garlic, but it still has many benefits.
Apart from increasing the shelf-life of garlic, it enhances its nutritional value. Additionally, it has the following health benefits:
Lowers the risk of dementia
Improves the digestive system health
Antioxidant property
Enhances probiotic and enzymatic action of garlic
Improved antidiabetic, anticarcinogen, antiallergic, and anti-inflammation properties.
Pickled garlic is more beneficial than fresh or raw garlic. However, you should follow the pickling or fermentation procedure to keep essential minerals and vitamins.
How to Make Pickling Garlic
Fresh garlic is highly perishable. That's why you need to preserve it, and there is no better way of doing that than pickling it.
We are aware there is store-bought pickled garlic. But do you think doing it yourself is a painstaking process? It is easy to make. Just follow the steps outlined below:
Step 1: Prepare The Ingredients from Pickled Garlic Recipe
This step basically involves assembling all ingredients and apparatus you will need. They include the following:
Bay leaves (cut into halves)
Coriander seed
Cumin seed
Crushed red pepper
Mustard seed
Peppercorns
White vinegar (preferred)
Pure salts (pickling and kosher are the best)
A sack of garlic or whatever quantity you have (you can buy peeled or unpeeled)
Step 2: Peel and Clean The Garlic
If you didn't buy peeled garlic, you should peel it in this step. You can do this in three different ways, but remember not to smash them.
Keep them whole. Discard any accidentally destroyed garlic cloves.
The first option is to use a mason jar. Put the unpeeled garlic cloves inside it and screw on the lid. Shake it until all garlic cloves are peeled.
You can stop after every minute of shaking to observe through the transparent jar to confirm if the process is complete or not.
The second option involves using a garlic peeler tube. Just put a few garlic cloves in the peeler tube and press with your palm as you roll it against the counter until everything peels off.
The last option requires two bowls. It is the best approach if you have many garlic cloves to peel. It may take time to do it, but this Youtube tutorial can guide you through the entire peeling process.
Garlic Peeler Tube Set
Step 3: Make The Brine
Combine water, vinegar, and salt in a small pot or saucepan and heat over medium heat while stirring.
Ensure all the salt crystals have dissolved. Lower the heat further and cover to keep warm while still carrying out the next step.
Step 4: Prepare the Jars Add Herbs To Enhance The Taste
Before you fill the jars with brine solution, sterilize the jars and lids. That involves washing them in hot sudsy water.
Rinse them and let them dry. It may not be necessary, but you can never take any chances. Keep the cleaned and sterilized jars hot. You can do that by filling them with hot water.
Next, prepare seasoning or herbs to give your garlic the desired taste. In this case, we will use bay leaves. But you can also use peppercorns, cumin seeds, coriander seeds, mustard seeds, red pepper flakes, etc.
Some people prefer fermenting garlic cloves for about 10 days before adding the seasonings.
If you go that way, you will have to first drain the brine solution from the cans. You then mix and let it marinate for a few hours for the flavor to meld with the garlic.
But if you follow this method, you need to Pour out hot water from the jars and add seasonings at the bottom. Proceed to the next step once done.
Step 5: Fill a Jar With Garlic Cloves and Add Brine
Fill the jar with peeled garlic cloves, ensuring they are as compact as possible but don't crush them. Next, add the brine solution into the jars, leaving about ¼ inch headspace.
Remove the air bubbles using a bubble remover or any long, thin object by inserting it into the jar from one side and moving it towards the center.
Top up the jars with brine as necessary and close the jars with the lids.
The peeled garlic cloves should be completely submerged in the brine. That means you should not overfill any jar with the content. Use many of them if necessary.
Step 6: Waiting For The Garlic To Ferment
The fermentation requires at least three days, but the longer the period, the better.
You can keep them in the refrigerator as you wait for them to be ready. If you are not in a hurry to use your pickled garlic, it can stay in the fridge for up to three months.
A successfully pickled garlic clove turns color from white to turquoise or bluish-green.
That results from the reaction between enzymes and sulfur-containing amino acids. The enzymes are activated by vinegar.
How to Store and Use Pickling Garlic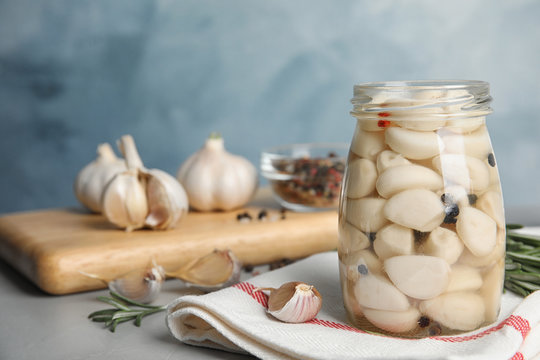 Pickled garlic cloves can stay for three months in a refrigerator. But since refrigeration may not be an option when living off-grid, you may consider canning.
This process involves making the jars airtight.
Store sealed processed jars in a cool dark place, either on the pantry or cabinet. The basement is ideal because of the cool temperatures. Under these conditions, pickled garlic cloves can last for one year.
Mold or yeast growth on your garlic means they are spoiled and should be discarded. That can be the case when you don't seal the jars or have unfavorable storage conditions.
Also read: How Did They Store Food Before Refrigeration? – 13 Best Methods To Store Food Before Refrigeration
FAQs
Is pickling garlic safe?
Yes. Pickling garlic is 100% safe and recommended, but only if you follow the pickling procedure.
It will help preserve garlic cloves and enhance their taste and health advantages.
What happens to your body if you eat garlic every day?
Garlic has many health benefits, and eating them every day does not harm you. It can help lower blood pressure, boosts your immunity, enhances your brain functions, etc.
However, an overdose should be avoided because it may trigger heartburn, digestive tract irritation, breath-related issues, and many others.
What is the side effect of garlic?
Garlic has many health benefits, but it also has a dark side. It can cause bad breath, gas, heartburn, diarrhea, and other undesirable effects.
These vary from person to person and are often pronounced if you eat raw garlic.
Glass Jars with Airtight Lid
Sale
Wide Mouth Glass Jars with Airtight Lid 32OZ 4 Pack, Kitchen Storage Large Clear Canister Jars with Hinged Lid with Measurement Marks For Canning,Coffee,Flour,Sugar,Beans
❤SET OF 4 GLASS JARS:At 32 OZ(Set of 4) capacity Round glass jars are the ideal size for storing spices, herbs, jams, preserves, teas and more. Will got free gift pen and stickers for each jar,use it to storage your home and kitchen now!make a organized neat home
❤PREMIUM GLASS-AIRTIGHT SEAL:Made with excellent thick glass,heavy duty glass body and lids are airtight design,with rubber gasket hinged lids to ensure a leak proof and airtight seal,make sure your food never get bad,keep fresh and dry for longer!durable quality make it last for years.wide mouth design make its easy to put in and take out your storage,transparent body make you easy to check and grab what you want.
❤HEALTH & SAFETY:BPA Free 100% food safe grade glass,food grade test approved,leak proof,none toxin, chemical and lead-free,high quality glass make them durable and reusable
Wrapping Up
Garlic can keep you healthy, especially the pickled ones. These have many benefits, as highlighted in this article.
Fortunately, you can also ferment your garlic at home using the simple steps that we have also outlined here. Use this information to stay healthy off-grid.
Thank you for reading this article at Em Offgrid. We have other related posts that we encourage you to check out. Also, you may share it with your friends.