What are the best methods to store carrots long term? Carrots are perishable vegetables. They can lose their water content and become soft in just a few days. Hence, the need to preserve them.
The carrots you harvest from your backyard garden can serve you all year round. Also, you can shop for more carrots cheaply from a grocery store when they are in season and preserve them for future use.
But how do you ensure they stay fresh until you need them?
Read on as we give step-by-step procedures of different methods you can use to store carrots for future use.
How to Store Carrots Long Term
The shelf life of carrots varies depending on the storage method and variety. Overall, carrots have longer shelf life than most vegetables.
You can keep them in a root cellar, water, fridge, and other ways. The climatic conditions in these storage units will determine how soon your carrot spoils.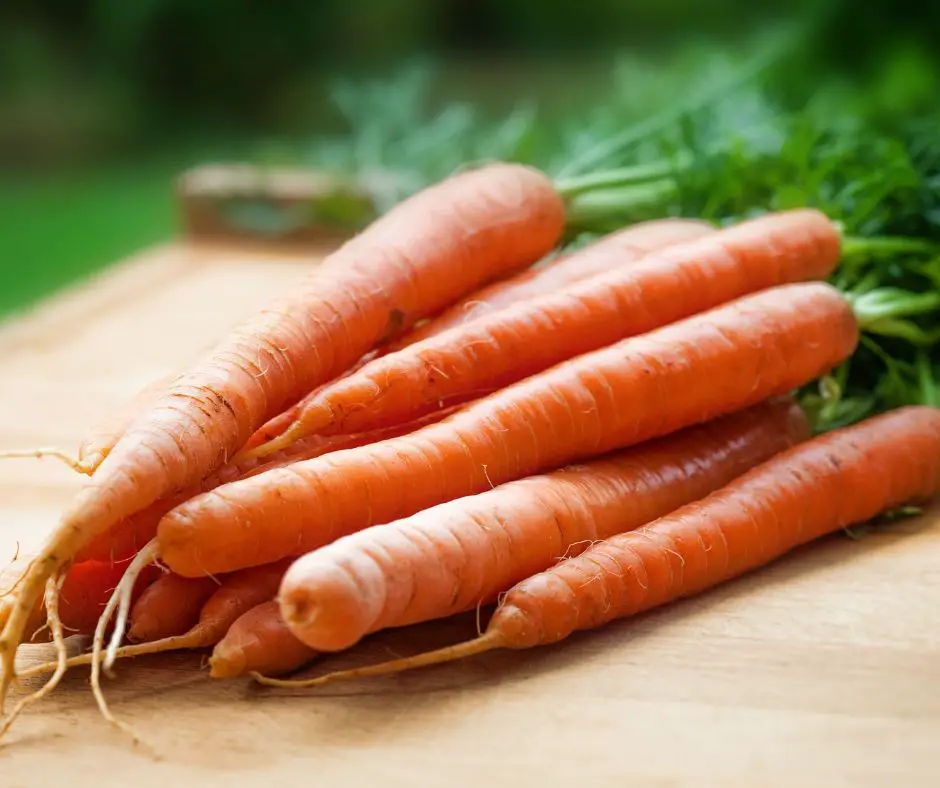 Carrots go bad from water loss. They become soft if they lose water. But as long as they are not slimy, you can still use them. Use the following methods to store carrots and make them last longer:
Method 1: Fridge
Refrigeration is one of the best methods you can use to extend the shelf life of carrots. This is practical for many homesteaders with a fridge and access to electricity, but can only keep carrots fresh for one month.
Rubbermaid Commercial Products, Plastic Space Saving Square Food Storage Container
Rubbermaid Commercial Products, Plastic Space Saving Square Food Storage Container for Kitchen/Sous Vide/Food Prep, 12 Quart, Clear
QUALITY ENGINEERING: Its commercial grade, break-resistant, polycarbonate material allows for greater durability, product visibility, and a smooth surface, allowing for easy cleaning. Note: There is no lid for the product
DESIGNED FOR SAVING SPACE: Square containers store up to 25% more on a shelf than round containers, providing compact storage for your busy kitchen, Easy-to-read, graduated measurements color-coded blue for liters, red for quarts
TEMPERATURE RANGE: Made of FDA compliant materials, this food storage container is dishwasher safe and able to withstand temperatures from -40 to 212 degrees Fahrenheit
Step-By-Step Instructions for Storing Carrots In The Refrigerator
Fresh carrots stored in a fridge can stay fresh for a month, but only if you follow all the steps involved appropriately. In this method, you are supposed to use water. So, the first point to note is to never wash the carrots. Follow these steps to store fresh carrots in a fridge:
Separate greens from roots and leave roots unwashed and unpeeled.
Put carrots in an airtight bag or large container and immerse them in cold water.
Close the container lid and put them inside the fridge. Change the water when it starts appearing cloudy. You can do that every 4-5 days and refill the container with clean cold water.
Instead of using any other container, you can use a pitcher or a tall narrow glass to utilize the vertical space inside your refrigerators. Alternatively, use an airtight and zip-top bag or vacuum-sealed bags. These are the most efficient options.
Pros and Cons of Storing Carrots In The Fridge
Storing carrots in a fridge is quick and practical. However, the shelf life of these vegetables is shorter using this method compared to other storage methods. One month may not be sufficient if you rely on your backyard garden for supplies.
Additionally, the fridge requires electricity, which may be limited if you live off the grid. This may force you to consider alternative methods.
Method 2: Freezing
If you want to store carrots for longer than one month, you may consider freezing them. The shelf life depends on your freezer and how you prepare and pack the carrots.
Carrots sealed in a Ziploc bag and stored in an ordinary freezer can last up to 9 months. You can get up to 14 months of shelf life if you keep them in a deep freezer. However, freezing carrots can cause changes in color, texture, and flavor. What causes this, and how do you prevent it?
Ziploc Gallon Food Storage Bags, Grip 'n Seal Technology for Easier Grip, Open, and Close, 30 Count, Pack of 4 (120 Total Bags)
Sale
Ziploc Gallon Food Storage Bags, New Stay Open Design with Stand-Up Bottom, Easy to Fill, 30 Count, Pack of 4 (120 Total Bags)
Introducing Ziploc brand Storage Bags with New Stay Open Design – they stay open when you want them to, making them really easy to fill, almost like having an extra pair of hands in the kitchen to help you out
They're easy to open and close thanks to Grip n' Seal technology, which also helps to lock in freshness so the food and treats you store taste great
The patented stand-up bottom lets you fill these plastic food storage bags with ease, making them great for handy fridge storage, while They're also safe to use in the microwave and are BPA free
Carrots have enzymatic action going on inside them even after harvesting. The enzymes can survive the freezing temperatures inside your freezer. That quickens the decay process, which alters the color, texture, and flavor. The solution is to pre-boil the carrots before freezing to kill the enzymes.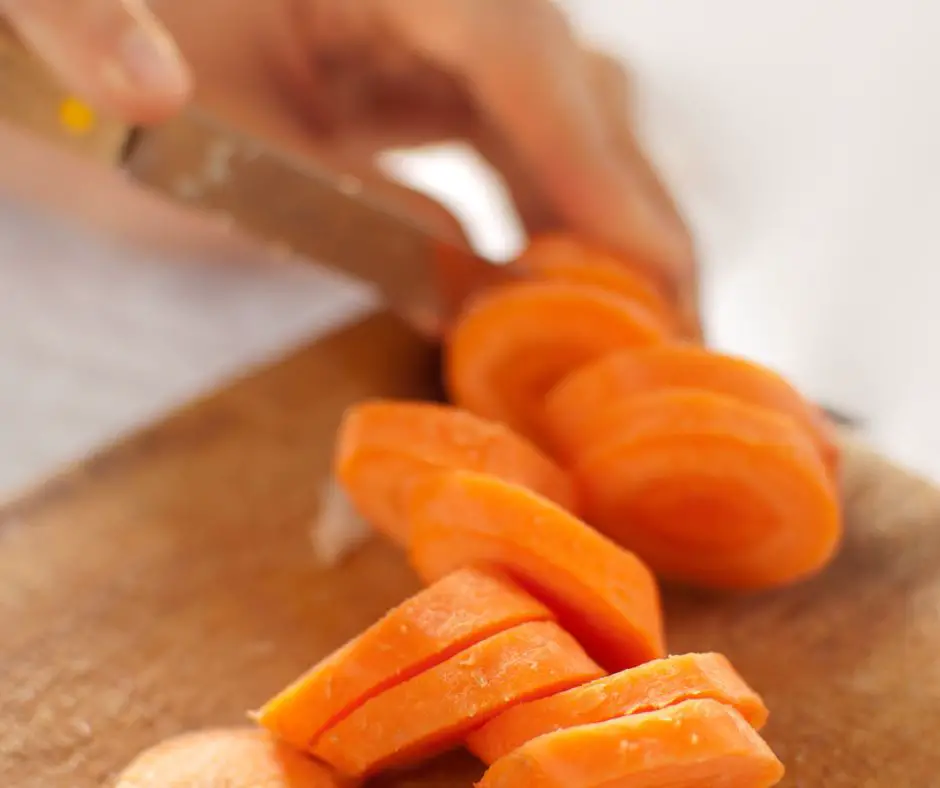 Step-By-Step Instructions for Storing Carrots By Freezing
Separate the greens from the roots and chop the carrot roots into slices, cubes, or rounds. Ensure the pieces are of about the same size.
Boil water in a saucepan. Meanwhile, prepare a bowl of iced water and a tray lined with a clean, dry tea towel or kitchen roll.
Once the water boils up, put carrots in and let them stay for about 3-5 minutes, depending on the size of the pieces. The smaller they are, the shorter they should take in hot water.
Remove the carrot pieces from the hot water. Put them in the bowl of iced water and let them cool for 3-5 minutes. Ensure you are quick when transferring carrots from hot water to the iced water in the bowl.
Drain the carrot pieces and arrange them on an open tray to dry. Pat them to quicken the drying process.
Lay the dry carrot pieces in another tray and freeze them until frozen solid. Ensure the sliced pieces are one layer thick.
Transfer the frozen pieces into a sealable freezer bag, remove excess air, and seal the bag. Put them back in the freezer until you need to use them.
Pros and Cons of Storing Carrots By Freezing
Freezing carrots extends their shelf life up to one year or even more. That may be an advantage, but the process is delicate and requires skills. If anything goes wrong, you can end up with rotten carrots or lose flavor, texture, or color over a short time.
Also, deep freezing requires electricity, a limited commodity when living off the grid.
Method 3: Canning or Pickling
Canned carrots can last for years. Usually, you should use your canned carrots within 3-5 years for the best quality. It degrades rapidly after this estimated shelf life.
Canning carrots require a pressure canner. And to properly do it, you should never use a water bath canner. Carrot is basic in nature, meaning most bacteria on this vegetable can survive in a water bath unless you pickle the carrots first. Pickle the carrots in vinegar to kill bacteria and other microorganisms.
Moreover, you should select small carrots of about 1-1.5 inches in diameter for canning. Bigger ones are too fibrous.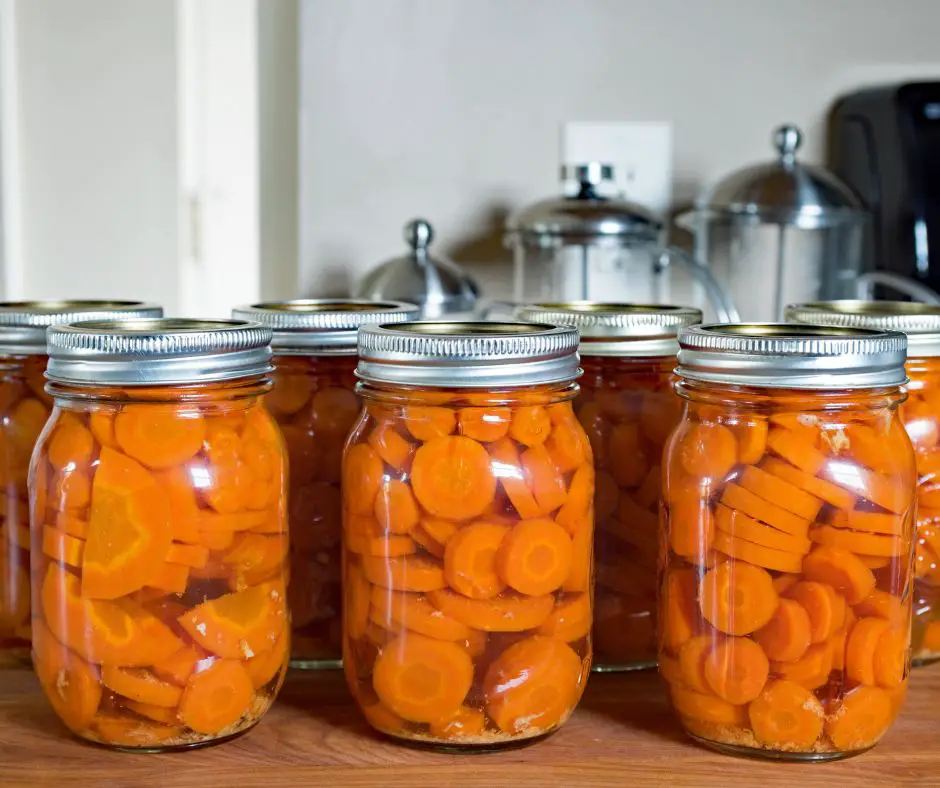 Paksh Novelty Mason Jars 16 oz – 12-Pack Regular Mouth Glass Jars with Lid & Seal Bands – Airtight Container for Pickling, Canning
Paksh Novelty Mason Jars - Food Storage Container - 12-Pack Regular Mouth Glass Jars - Airtight Container for Pickling, Canning, Candles, Home Decor, Overnight Oats, Fruit Preserves, Jam or Jelly
VERSATILE - This is the best regular mouth mason jar for fermenting or canning pickles, tomatoes, sauerkraut, salmon, kidney beans, and pumpkin in the comfort of your home. Save money and live healthy by knowing what is in your food! Great as candle jars, wedding party favors or rustic farm decor.
QUALITY CRAFTED GLASS - Long lasting with upgraded soda-lime glass that is both food grade and lead-free. Each glass jar is textured in smooth hobnail fashion. Easy to grip but also brilliantly clear to show off the vibrant colors of the contents inside.
AIRTIGHT & LEAKPROOF - These superior glass jars with lids are self-sealing for airtight and leakproof kitchen storage. The metal lid is lined with plastisol to help avoid rust and decay. Food contained will last longer and taste fresher.
Step-By-Step Instructions for Storing Carrots By Canning/Pickling
Wash, peel, rewash, and slice the carrots
Cover the carrots with water and boil. Let it simmer for about five minutes.
Pack the boiled, hot carrots into glass jars, leaving about half an inch of headspace. You can add a half teaspoonful of salt to points, but that is optional.
Fill the jars with boiling water, leaving only 1 inch of headspace.
Stir with a metallic spatula to remove air bubbles. Wipe the rim and fit the lid but don't make it too tight.
Process in a Dial Gauge Pressure Canner set at 11 pounds pressure. But if using a Weighted Gauge Pressure canner, the pressure should be 10 pounds. Processing should take 25 minutes for pints and 30 minutes for quarts.
CONCORD 20 Quart Stainless Steel Canning Pot Set.
Pros and Cons of Storing Carrots By Canning/Pickling
Canning carrots give you a longer shelf life than refrigerated ones. However, the complexity of this process makes it unsuitable for many homesteaders. You also need a pressure canner, which not everyone has. Buying one just for canning carrots may be expensive.
Method 4: Sand (or Basement Storage)
The sand method is the most practical and homesteaders' favorite. You don't need electricity or refrigerators to get up to 6 months of shelf life from your carrots.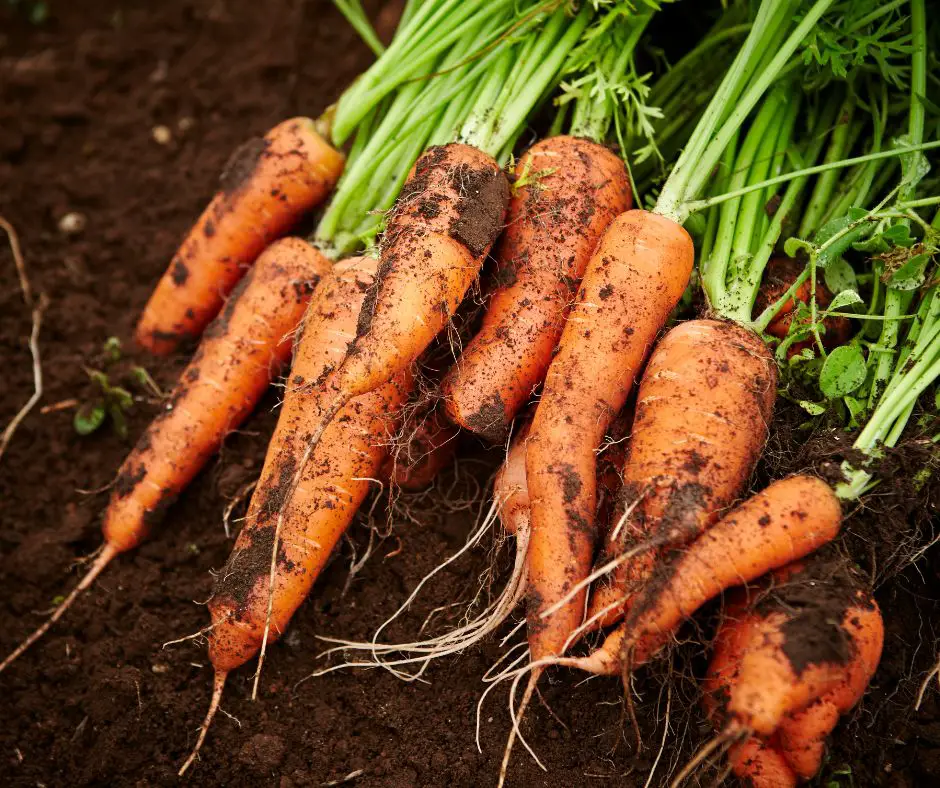 Use a kid's play sand instead of one from beaches, riverbanks, or your garden. Those may be contaminated with bacteria and microorganisms that will potentially damage the carrots. Besides, you don't want your vegetables to be contaminated with pathogens.
Additionally, only consider healthy carrots for this method. Avoid visibly broken, split, or deformed carrots as these are prone to rotting and will not last long in the sand.
Lastly, don't wash carrots that you will preserve using this method. Water can potentially speed up the rotting process.
Step-By-Step Instructions for Storing Carrots In Sand
Take a planter and fill it with a freshly opened bag of kid's play sand.
Remove the green from the roots and leave the roots unwashed. Just sort them out and only take the healthy ones to the next step. You can preserve the defective or deformed ones using other methods.
Push the carrots vertically into the sand, leaving space between them for air circulation. Cover with a layer of sand.  
Keep the planter and its content in a cool place, but not too cold to freeze.
Pros and Cons of Storing Carrots In Sand
The sand method is simple, fast, and practical for a homesteader. You don't need a refrigerator or electricity. However, it may not be ideal if you want to preserve the carrots for more than 6 months. Fortunately, many people usually use their stock within that period.
Method 5: Dehydrating
Carrots are 88% water. That is what makes them perishable if not well preserved. If you dehydrate them, carrots can last 10-15 years.
Dehydrating carrots is straightforward if you have a dehydrator. You can also make dehydrated carrot flakes or use a food processor to grind them into powder. The powder can be used in soups, casseroles, drinks, and other recipes.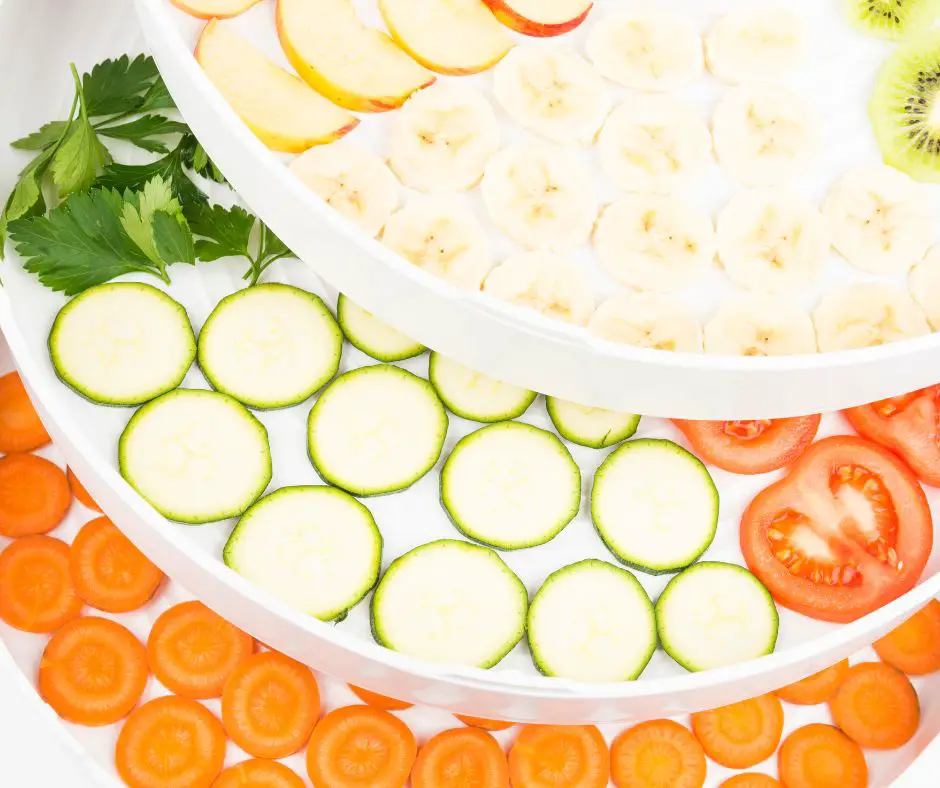 Step-By-Step Instructions for Storing Carrots By Dehydrating
Remove the greens and wash and peel roots.
Cut the washed, peeled carrot roots into thin slices or cubes.
Boil the slices in water for about 3-5 minutes and transfer them into a bowl of ice water. Let it sit for 3-5 minutes.
Remove the sliced carrot pieces from the ice and pat dry in a tray, and spread into a single layer thick.
Put the pieces in a dehydrator and set the temperature to 125 degrees Fahrenheit. Check them every one hour or according to the instructions for the dehydrator. Remove them from the dehydrator when dry and crispy.
Nesco LT-2SG Snackmaster 13.5″ Add-a-Tray Food Dehydrators, White, 2 Count,Nesco LT-2SG Snackmaster 13.5″ Add-a-Tray Food Dehydrators, White, 2 Count, accessory, Gray
NESCO LT-2SG Plastic 13 1/2" Add-A-Trays, accessory, Gray
13.5" DIAMETER TRAYS: This Add-A-Tray 2-pack provides an additional 1.6 sq ft. of drying area
BPA FREE: Made of durable, high-quality food grade plastic – reusable & easy to clean (hand wash only)
EXPAND YOUR DEHYDRATOR: The Add-A-Tray enable you to maximize your favorite NESCO Dehydrator's capacity, allowing more space for your next harvest, snacks or jerky
Pros and Cons of Storing Carrots By Dehydrating
The first advantage of dehydrating carrots is the long shelf life. Dried carrots can last for more than a decade. The other advantage is an endless list of uses for dehydrated carrots.
However, it needs a dehydrator that requires electricity to operate. You can use alternative means to dehydrate carrots, but these are usually very slow.
Tips to Store Carrots Long Term
The shelf life you will achieve using any method depends on different factors. To ensure your carrots stay fresh for long, consider the following tips:
Do not store carrots with vegetables and fruits that produce ethylene gas, such as apples, pears, ripe bananas, etc.
Remove the greens before storing carrots to minimize the rate of water loss from the roots.
Consider cool spots in your fridge for storing carrots if using that method. But ensure they don't freeze.
Some carrot storing methods require you to use unwashed and unpeeled carrots. Stick to that if you don't want to invite mold growth, which will make the carrots rot.
Wrapping Up
Carrots are 88% water, which makes them perishable vegetables. The storage methods such as freezing, using sand, and refrigeration involve preserving their water content and discouraging the multiplication of bacteria and other microorganisms.
But if you want your carrots dry, consider dehydrating them and storing them in an airtight container in a cool, dry, dark place.
Thank you for your time at Em Offgrid. We appreciate your time and invite you to explore our site for more related articles. Also, we request you to share this information with your friends.