The Great Depression resulted in a rapid increase in food insecurity worldwide which made food rationing necessary in every home.
Cooking your own meal is one of the best ways to ration food items which is why we have curated a list of 22 meals to help us get through the Great Depression.
It's no secret that cooking at home helps you save money. But making Great Depression-era economical recipes is a wiser move.
These recipes provide a way to cook incredible meals despite being faced with rationed food items.
Many of these constraints encouraged them to be more imaginative and inventive in cooking.
This article provides a list of the best 22 meals to get through the Great Depression, as well as their recipes and cooking tips. 
Food And Depression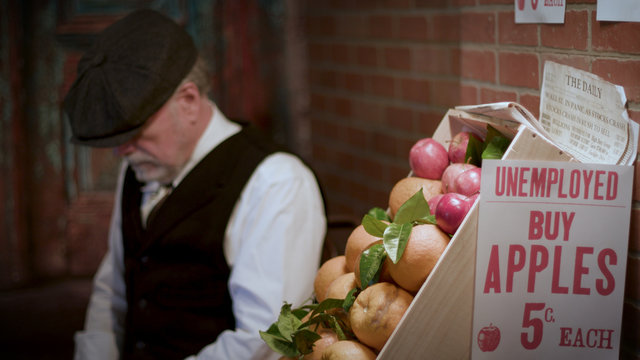 The Great Depression is a decade-long, worldwide economic decline from 1929 to 1939. It currently stands as the longest and most severe economic depression in the history of the Western World. It has served as the basis of many fundamental changes in macroeconomic policy, economic theories and economic institutions. 
The Depression resulted in a global food crisis that threatened people's access to food through multiple channels. This had severe consequences on nutrition and food security worldwide.
The world witnessed not only a massive disruption in food supply networks but also a significant global economic downturn. These crises resulted in decreased earnings and rising food costs, placing food out of reach for many people.
22 Meals To Get Through The Great Depression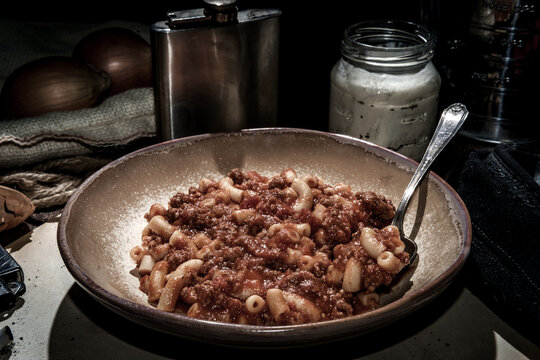 It is common knowledge that cooking at home saves money. Making Great Depression-era budget-friendly recipes, on the other hand, is a much wiser decision.
These recipes show you how to make delicious dinners even if you're on a tight budget.
Here are some of the finest 22 meals, as well as recipes and culinary suggestions, to help us get through the Great Depression;
Old-fashioned Baked Beans
Baked beans are a popular dish in the United States. They are incredibly delectable due to the blend of sweet, savory, and smoky qualities.
Making your own homemade baked beans from scratch is easier than you would think; all you need is enough time to prepare them. 
Cooking Steps
In a large pot, bring 10 cups of water and the navy beans to a boil; simmer for 2 minutes on high. 
In a large mixing bowl, mix the water, bacon, onion, brown sugar, molasses, and salt.
Pour the mixture carefully into a slow cooker.
Cook for 4 hours on high, stirring once in a while.
3 cups of water should be added to the mix. 
Cook for an additional 2 hours 15 minutes, or until the beans are tender enough.
Cooking Tip: If too much moisture evaporates during the cooking process and the beans become dry, add a bit more of the stored bean water. 
Creamy Chipped Beef Fondue
Originating in Mid-Atlantic and Dutch County, Eastern Pennsylvania, the creamy chipped beef fondue is another staple depression-era food. It is a cheap and easy-to-make dish made with salted and dried beef.
It was also commonly referred to as "Sh*t on a Shingle" or "Save Our Stomachs"(S.O.S) by the American military force during World War II and World War I. 
Cooking Steps
In a medium saucepan, melt the butter. 
Combine flour, salt, and pepper in a mixing bowl. 
Add the milk and mix well. 
Cook, stirring regularly, over medium heat until the mixture boils and thickens. Turn down the heat.
Pour the shredded beef in the cream sauce and heat. 
Spread on toasted bread to enjoy a delicious meal.
Cooking Tip: You can add onion and mustard to the cream mix for better taste. Cook with a Fondue pot or Slow Cooker. 
As meat was sometimes considered a rare commodity in the depression era, beans were one of the food items that filled its space on the menu.
The Navy Bean Soup is one of the most delicious meals to make this list. 
Cooking Steps
In a large saucepan, cover the beans with cold water by about 2 inches. 
Bring to a boil, then reduce to low heat. 
Cook for 5 minutes before removing from the heat, covering, and allowing it to set for 1 hour. 
Drain and set aside. 
Kitchen Weave the parsley, thyme, and bay leaf together.
Combine the beans, herb bundle, hocks, onions, and garlic with the water in a large soup pot or Dutch oven. 
Bring to a boil, then reduce to a low heat setting to keep the soup at a soft simmer. 
Cook until the beans and hock are thoroughly soft, about 1 1/2 hours total, tossing in the carrots after 1 hour.
Remove the hocks after turning off the heat.
Allow it to cool slightly. 
Remove the hocks' flesh and discard the bones, fat, and skin. Meat should be cut into small chunks. 
Remove and discard the herb bundle.
In a blender, puree about 3 cups of beans with some of the liquid. 
In a large mixing bowl, combine the puree and cubed meat. 
Heat the soup and season to taste with salt and pepper as needed.
Pour into warmed bowls and top with a little dollop of butter and serve. 
Cooking Tip: Puree all the beans for a smoother soup. The ham hock gives the soup a delicate smokiness. 
Saucepan Set with lid
MICHELANGELO Saucepan Set with lid, Nonstick 1Qt & 2Qt Saucepan Set with Lid, Small Sauce Pot with Lid, Nonstick Sauce Pan 1Quart & 2 Quart, Stone Derived Coating Sauce Pan Set, Small Pot with Lid
【Eco-friendly Granite Nonstick Coating】Looking for the natural stone material coating cookware? This nonstick saucepan set is a great deal for all the at-home chefs out there.100% APEO & PFOA-Free.
【Heats Quickly & Evenly】This 1quart & 2 quart small pot with lid is made of professional grade aluminum alloy that conducts heat quickly and evenly with precise temperature control and no hot spot. No chipping, no peeling or flaking.
【Multifunctional Sauce Pan】The nonstick 1quart & 2 quart sauce pan set is perfect for cooking/re-heating vegetables, sauces, pasta, egg, rice or soup. Suitable for electric stovetop, gas, glass and almost all types of stovetop. Not compatible with induction cooktops.
Wacky Chocolate Cake Without Butter Or Eggs
This dish is also commonly known as the "Crazy Cake." With no need for butter, milk or eggs, you can easily prepare this incredible chocolate cake.
Much like your volcano experiment, baking soda and vinegar work together to make this cake rise. This is definitely a taste you will enjoy. 
Cooking Steps
Preheat the oven to 350 degrees Fahrenheit. 
Stir together the flour, sugar, salt, baking soda, and cocoa powder in a large mixing bowl until well blended.
In a liquid measuring cup, pour 1 cup water, then add the vanilla essence and vinegar.
Toss the oil into the dry ingredients bowl, then add the water mixture. 
Stir until the batter for the chocolate cake is largely smooth. Make sure there is no dry flour at the bottom of the bowl.
Fill an 8×8″ or 9×9″ baking dish halfway with a cake batter. 
Bake the cake for 35 minutes in the preheated oven. 
Allow the cake to cool for at least an hour after baking before applying the chocolate icing.
After the cake has cooled, prepare the icing. In a mixing bowl, combine the powdered sugar, cocoa powder, and vanilla extract. 1 tablespoon at a time, add water until it creates a thick but pourable icing (about 3 Tbsp total). If you let the icing rest for too long, it will dry up, but you may re-moisten it with a spray of water.
Spread the icing over the cooled cake until it is completely covered. Serve the cake by slicing it into 9 pieces.
Cooking Tip: Canola, vegetable, grapeseed, safflower, corn, or avocado oil are all good neutral cooking oils to use. Any light vinegar, such as white vinegar, rice vinegar, or apple cider vinegar, would suffice.
The Graham Cracker Pie Crust
Crushed graham crackers are used to make a graham cracker pie crust. Graham crackers are a delicious American cracker produced from whole wheat graham flour that hasn't been bleached.
Butter or vegetable oil, as well as sugar, are commonly used to flavor and thicken the crust.
Cooking Steps
Mix the graham cracker crumbs, sugar, melted butter or margarine, and cinnamon in a large mixing bowl until well combined. 
Press the mixture on an 8 or 9-inch pie plate.
Preheat the oven to 375 degrees F (190 degrees C) and bake for 7 minutes. 
Cool. 
If the recipe specifies an unbaked pie shell, chill for 1 hour.
Cooking Tip: A pinch of cinnamon, nutmeg, cardamom, or any other spice that matches the filling, can be added to the basic crust in this recipe.
The same goes for orange zest, lemon zest, and, of course, vanilla extract.
Peanut Butter Bread Without Yeast
This peanut butter quick bread is simple to make, and all of the ingredients are combined in one bowl without the use of a mixer.
Yeast, eggs, oil, or butter are not required. In just under an hour, including baking time, you can have a loaf of fresh bread.
Cooking Steps
To begin, mix the milk and peanut butter together until smooth and no pieces of peanut butter remain.
Then whisk in all of the dry ingredients until everything is well incorporated. The batter will be quite thick.
Bake for about 40 minutes, or until the bread is done, after pouring the batter into a loaf pan.
Cooking Tip: Preheat the oven to 350 degrees Fahrenheit. Grease a loaf pan generously with nonstick cooking spray or butter.
Line the loaf pan with a strip of parchment paper that drapes over the narrow edges.
Ketchup, Mayonnaise Or Onion Sandwiches
This incredible sandwich is filled with vegetables like onion, tomatoes, cucumber and complemented with tangy mayonnaise dip made by mixing mayonnaise with chili flax and tomato ketchup.
Cooking Steps
Mix corn, mayonnaise, capsicum, tomato, salt, and pepper in a mixing bowl.
Refrigerate for 15 to 20 minutes before serving.
Bread should be trimmed on all sides.
Using butter, coat all of the slices.
Spread 2 tbsp of the corn-mayonnaise mixture evenly in the center of each slice of bread.
On top of that, place another buttered slice.
Using a sharp knife, cut the sandwich in half diagonally.
Repeat with the remaining bread slices and corn-mayonnaise mixture.
Serve with tomato ketchup on the side.
Cooking Tip: Mayonnaise is an essential part of this dish which is why it is important to choose the right mayo.
Wieners And Beans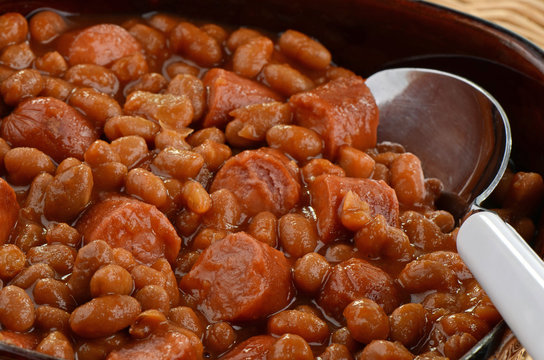 Baked beans and hot dogs, or wieners as they're commonly known, are a natural pairing. Beans and hot dogs are also low-cost options.
This dish was one of the most popular and most delicious meals of the depression era.
Cooking Steps
.Boil the frankfurters for 5 minutes in a saucepan filled with water.
Mix the barbeque sauce, dry mustard, and baked beans in a separate pot. Heat while stirring.
Mix the cooked frankfurters with the sauce mixture and heat for 10 to 15 minutes, or until well heated.
Cooking Tip: Make the dish with ham, spicy smoked sausage, or turkey ham if you don't like hot dogs.
Depression-era Meatloaf 
Everyone will agree that meatloaf, formerly a Depression-era meal to assist home cooks stretch scarce protein to feed more people, can now be anything you want it to be: an affordable family meal or a culinary masterpiece fit for a king.
The best meatloaf recipe is usually served warm as part of the main course, but it may also be found cold sliced.
Cooking Steps
Pour milk over bread in a large mixing basin (let stand until milk is absorbed).
Combine the onion, salt, and pepper in a mixing bowl.
Toss the bread with a fork until it softens and becomes light and fluffy.
Add the ground beef and mix well.
Form the meat mixture into a loaf shape.
Place in a baking loaf pan that has been lightly oiled.
You can decide to put some ketchup on it. 
Place some strips of bacon on the loaf. 
Bake for 1 hour at 350°F.
Cooking Tip: You can also eat it with sauce. Pour the sauce over the meatloaf and bake for another hour, basting every 30 minutes with the sauce.
Dandelion Salad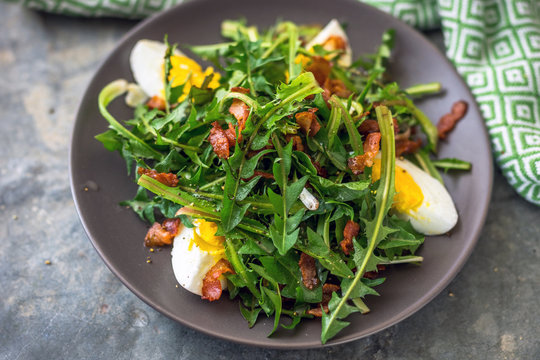 This is a very creative use of those pesky dandelions that grow all around your compound. This dish was one of the most common vegetarian dishes of the depression era.
Cooking Steps
In a mixing bowl, mix the garlic scapes, lemon juice, salt, and sugar. Whisk everything together until it's smooth. Drizzle in the oil in a slow, steady stream, constantly stirring until it's completely emulsified.
Pour the dandelions in a bowl. Toss the greens in the dressing to coat them. Serve right away.
Cooking Tip: To make the dressing, follow these steps: Fill a blender or food processor halfway with roasted garlic pulp (discard the skins). Blend or process the oil, vinegar, lime juice, salt, and pepper until smooth.
Milkorno
Milkorno was invented by Cornell University scientists in the early 1930s as low-cost nourishment for the Depression-era masses.
It's made up of dried milk powder and cornmeal, and it can be consumed as gruel-like oatmeal or used in recipes like those found at Cornell University.
Cooking Steps
Combine 2 parts maize meal and 1 part powdered skim milk in a mixing bowl.
Cooking Tip: To make the polenta version, in a saucepan, combine 1 cup cornmeal, 1/2 cup powdered skim milk, and 3 to 4 cups water and bring to a boil.
Potato Pancakes
This is a classic potato pancake dish that is deliciously comforting. Often prepared with potatoes, flour or matzo meal in addition to some agent like applesauce or egg to pull it together.
Cooking Steps
Preheat the oven to 200 degrees Fahrenheit. Preheat the oven to 350°F and place two nonstick baking sheets in the oven.
Coarsely grate onion with a box grater or food processor loaded with grating disc and place in a colander set in the sink. Grate potatoes coarsely, place in a colander and put aside to drain.
Lightly beat the eggs in a large mixing basin, then whisk in the flour.
Remove as much moisture as possible from the potatoes and onion before adding to the egg/flour combination. Salt and freshly ground black pepper to taste. Mix well with a wooden spoon or your hands, but don't overwork it.
Heat 1 tablespoon oil and 1 tablespoon butter in a 12-inch heavy-bottomed skillet over moderately high heat until heated but not smoking. Fill the pan with 4 scant 14-cup portions of potato mixture and flatten with a spatula to make four 3-inch pancakes.
Fry until golden brown on the bottoms, 4 to 5 minutes, then flip and fry until golden brown and crisp, another 4 to 5 minutes. Drain on paper towels and season with salt and pepper right away. While creating the remaining pancakes, keep them warm on baking pans in the oven.
Wipe the pan clean with paper towels. Fry 4 more pancakes with 1 tablespoon oil and 1 tablespoon butter. Wipe out the pan and add 1 tablespoon oil and 1 tablespoon butter before each batch with the remaining batter.
Serve the pancakes with applesauce and/or sour cream while they're still hot.
Cooking Tip: For a light dinner, serve with applesauce and sour cream or with roast chicken for a hearty winter feast. If the mixture appears to be too wet, add more flour.
Also read: 4 Easy Steps to Make Sour Cream Quickly
Potato Soup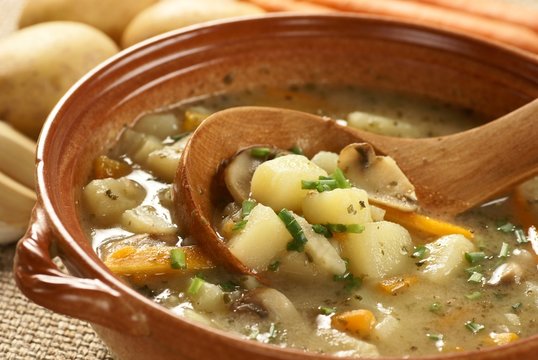 Without a doubt, this soup is a very popular one and rightfully so. The soup comes with a delectable taste due to its creamy soup base as well as the potato chunks.
The potato soup is easily made and absolutely irresistible. 
Cooking Steps
In a heavy pot, melt the butter. When the butter has foamed, add the potatoes and onions and mix until evenly coated.
Sprinkle it with salt and a few grinds of pepper. Cover with the saucepan cover and a butter wrapper or paper lid. Sweat for around 10 minutes on a low heat setting.
Bring the stock to a boil in the meantime. Add the boiling stock when the veggies are soft but not colored, and simmer for another 10-15 minutes, or until the vegetables are soft.
In a blender or food processor, puree the soup with the milk. Season with salt and pepper to taste.
Serve with a few fresh chopped herbs or some of the toppings listed below.
Cooking Tip: To thicken the soup, you can make a roux with flour. However, the step can be replaced by puréeing only some part of the soup if you are interested in a lighter soup.
Meat And Potato Patties
Beef cutlets, also known as meat patties with potatoes, are very tasty appetizers packed with savory spices and herbs. There's a reason why these timeless beauties are so popular!
Cooking Steps
Combine ground beef, potatoes, onion, green pepper, egg, and salt in a mixing bowl. Make four patties out of the mixture.
Brown the patties in the oil over medium heat; drain. Toss in the tomato juice. Reduce to low heat and cook for 20 to 25 minutes, or until the meat is no longer pink. Place the patties on a serving plate and keep them heated.
In a separate bowl, whisk together the flour and water; gradually add to the fluid in the skillet. Cook, constantly stirring, until the sauce has thickened, about a minute. Serve with a dollop of sauce on top of the patties and a sprinkling of green onions.
Cooking Tip: You can deep-fry with a 50/50 mixture of vegetable oil and sesame oil instead of using pure vegetable oil.
Vegetable Cabbage Soup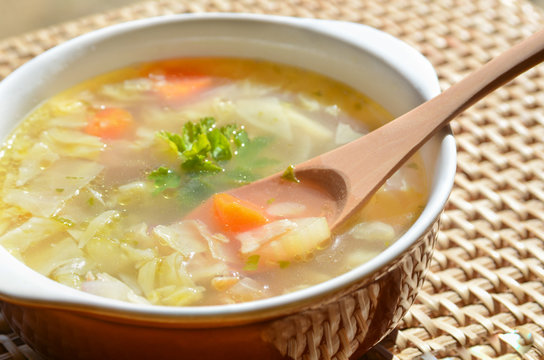 This soup is the most versatile. It's tasty, filling, and incredibly quick to prepare. It would be excellent to use leftover pulled pork, shredded chicken, or braised beef.
Just to warm it up, add it in during the last few minutes of cooking.
Cooking Steps
In a Dutch oven, heat the oil over medium-high heat. 
Cook, occasionally turning, until the onion is transparent, about 5 minutes. 
Cook, constantly stirring, for 1 minute, or until garlic is aromatic. 
Add the cabbage, carrots, and celery and simmer, stirring periodically, for about 8 minutes, or until the cabbage begins to wilt.
Bring to a boil over medium-high heat, stirring in the tomatoes, beans, broth, crushed red pepper, salt, and pepper. 
Reduce the heat to medium-low and cook, uncovered, for about 25 minutes, or until the cabbage is soft.
Remove the pan from the heat and mix in the parsley and thyme. If desired, garnish with parsley leaves.
Cooking Tip: Put 1 1⁄2 cup fresh cooked white beans (cannellini, great northern, or chickpeas) or 1 can of drained white beans (cannellini, great northern, or chickpeas) to make this a well-balanced recipe.
Hoover Stew
Hoover Stew can be prepared with hotdogs, tomatoes, beans or corn and macaroni, similar to our modern-day guilty pleasure of macaroni and hot dogs.
It was named after President Herbert Hoover, who took office just before the 1929 financial disaster and was largely enjoyed by shantytown families.
Cooking Steps
Cook macaroni according to the package directions.
Slice the hot dogs into very thin "coins" while it cooks.
Open the tomatoes, beans (if using), and corn cans, but leave the corn and tomatoes undrained. Rinse the beans if desired.
Get a big pot and mix the beans, corn, tomatoes and the slices of hotdog keeping the heat just below boiling point. 
As the mixture cooks, break up the tomatoes into small parts.
When the macaroni is almost done, drain it. If necessary, keep the cooking water to add to the pot.
Continue to simmer until all of the ingredients are well heated, then add the macaroni to the tomato mixture in the pot. Season with salt and pepper to taste. To keep the macaroni from drying out, add any reserved cooking water. Serve.
Cooking Tip: Add any additional seasonings you wish, however during the Depression, this was often not "fancied up." 
Crock-Pot 3.5 Quart Casserole Manual Slow Cooker, Charcoal
Bologna Casserole
When meat became prohibitively expensive during the Great Depression, people resorted to bologna for sustenance. As a result, bologna casseroles grew in popularity in many homes. 
Cooking Steps
Preheat the oven to 350 degrees Fahrenheit (175 degrees C). 1 1/2 quart baking dish, greased.
Over medium-high heat, heat a skillet. 
In a heated skillet, brown the bologna slices on both sides, about 1 minute per side. 
Drain on a platter lined with paper towels. 
Remove any excess grease from the skillet, turn the heat down to medium, and add the butter and onion. 
Cook and stir for 5 minutes, or until the onion has softened and turned translucent. 
In a mixing bowl, combine the onions and the warm mashed potatoes.
Half of the mashed potatoes should be spread into the baking dish. 
Half of the fried bologna is layered on top, followed by half of the cheese. 
Repeat with the rest of the ingredients.
Bake for 30 minutes, uncovered, in a preheated oven until the cheese is bubbling and the middle is hot.
Cooking Tip: A pinch of nutmeg in the potatoes gives a really delightful taste that complements all of the other components well.
During the baking process, the cheese melts, creating a luxurious and delectable dish that may be served as a side dish or as the main course.
Poorman's Meal
Ms. Clara, who lived through the Great Depression, presented a delightful dish called Poorman's Meal.
Ms. Clara, who had to drop out of high school during the Great Depression because her family couldn't buy socks, taught the world how to create Poorman's Meal in 2007. 
Cooking Steps
In a large frying pan, combine the cubed potatoes and chopped onion (I used a large cast-iron skillet).
Turn the heat to medium and drizzle the cooking oil on top. Allow potatoes to brown slowly, stirring them every few minutes to ensure even cooking. 
Add the bite-sized hot dogs and salsa once the potatoes are done, and the onions are cooked. Mix gently. To taste, season with salt and pepper.
Cooking Tip: You can add roughly a quarter cup of water to help the potatoes soften.
Rice Pudding
The texture and sweetness of our Old-Fashioned Rice Pudding are exquisite. This old-fashioned delicacy requires only a few ingredients and a little effort to prepare.
Cooking Steps
Mix 5 1/2 cups milk, sugar, and salt in a large saucepan. Over medium-high heat, bring to a boil.
Reduce the heat to low and stir in the rice. Make sure the heat is turned down to a soft simmer.
Cook for 50 to 60 minutes, stirring occasionally. The mixture should thicken to a yogurt-like consistency.
Remove from the heat and mix in the vanilla extract after it has thickened.
Allow it to cool before refrigerating. Just before serving, the last 1/2 cup of milk is swirled in. If desired, top with cinnamon.
Cooking Tip: Don't allow the pudding to come to a boil once you've done combining the ingredients. It will curdle if you do so.
All you have to do now is maintain it on low heat until it thickens. Keep in mind that it will thicken as it cools.
Hot Water Pie
Emmy from the emmymadeinjapan YouTube channel made this hot water pie from a recipe submitted by a fan whose grandma cooked it during the Great Depression. It's simple but sweet, and it's a breeze to make.
Cooking Steps
Preheat the oven to 400°F and place the pie crust on a baking sheet.
In the pie crust, pour 1 ½  cups water.
Combine the flour and sugar in a small bowl. Over the water in the crust, evenly sprinkle. Stirring is not allowed.
Over the water in the pie crust, drizzle vanilla. Add butter pats on the top.
Bake for 30 minutes at 400 degrees Fahrenheit. Reduce the heat to 375 degrees Fahrenheit and, if necessary, cover the sides of the crust to avoid burning. Add another 30 minutes to the cooking time.
When you remove the pie from the oven, it will be runny, but as it cools, it will thicken. Allow it to cool completely before wrapping in plastic wrap and chilling until ready to cut.
Cooking Tip: This dish, while simple, necessitates a lot of beating. Although it may appear that the ingredients will never blend, continue because they will.
Old-world Puff Pancake
Puff Pancakes, Old-World Pancakes, or Dutch Baby Pancakes… They're delicious no matter what you call them! With only a few ingredients and a lot of flavors, this dish is simple to cook.
Cooking Steps
Preheat the oven to 425 degrees Fahrenheit.
In a 10′′ cast iron skillet or baking pan, melt the butter. Heat for 1-2 minutes in the oven or until the butter has melted.
In a blender, combine the flour, sugar, cinnamon, eggs, milk, and vanilla essence.
Pulse or blend until everything is well integrated.
Immediately pour the batter on top of the melted butter. Stirring is not allowed.
Bake for 15-18 minutes, or until the edges of the pancake are just beginning to brown and the center has set.
Fresh fruit, powdered sugar, or warmed syrup are all good additions.
Cooking Tip: While this pancake is visually stunning and oh-so-appealing, it isn't really filling. To round out the meal, we like to serve some interesting sides such as bacon, fruits or syrup.
Poor Man's Boiled Cake
This cake's recipe calls for no milk, butter, or eggs; therefore, it remained a popular choice among cooks in the years following WWI, when the United States faced particularly difficult times throughout the 1930s and the Great Depression. As a result, this cake earned the nickname "Poor Man's Cake" or "Depression-Era Cake."
Cooking Steps
Preheat the oven to 350°F (175°C) and grease and flour a 9×13-inch baking pan.
Brown sugar, raisins, water, and shortening are combined in a pot. Bring to a boil, then reduce to a simmer for 3 minutes. Remove from the heat and set aside to cool.
Mix the flour, baking soda, salt, cinnamon, nutmeg, and cloves in a large mixing basin. When the raisin mixture has cooled, combine it with the dry ingredients and stir thoroughly.
Preheat the oven to 350 degrees F (175 degrees C) and bake for 30 to 40 minutes. Overbaking will result in a dry product. After 30 minutes, repeat the test. If you stick a toothpick in the center of the cake, it should come out clean.
Cooking Tip: Use the toothpick method to find out when the cake is ready. 
Some Thoughts
Every meal on this list was once popular during the Great depression, but that does not mean they cannot serve you well in the present times.
This is why it is no surprise they are still quite well-known and very much in use in this age. These meals taste amazing and delicious. 
With a few simple ingredients from your pantry, you can save some money and cook some of these amazing meals in your home.
And if you have some other interesting ingredients, you can modify the recipe to create an amazing flavor. 
Also check out our other articles about foods for survival:
Complete List Of 26 Cheapest Survival Food
15 Important Foods That Last Forever & Tips To Maximize Food Shelf Life