There are many survival weapons that you can carry into the woods or make once there. These include rock knives, machetes, bows and arrows, simple clubs, slings, spears, etc.
Survival weapons are mainly for hunting, foraging, and personal defense. Fortunately, there is an assortment of weapons you can make or buy readymade.
Guns, for example, have been used for centuries in the woods for small game hunting.
This article focuses on survival weapons you can buy and natural weapons and tools you can make by hand. Read on to get the details.
Why Do We Need Survival Weapons?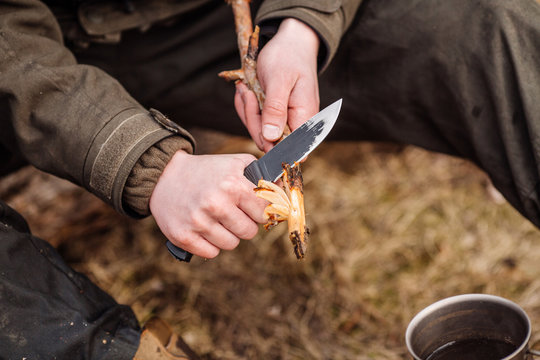 Survival weapons are mainly for hunting, foraging, or self-defense. The use of every survival weapon may vary from one to another, but they all boil down to one thing, survival.
Danger lurks in the woods. Whether you are there to hunk, forage, or for adventure, you need a survival weapon to protect yourself from any attacker.
It can be a wild animal or an assailant. If you have the right survival weapon, you can defend yourself and escape danger.
You sometimes don't need to fight if you have a survival weapon. Your opponent is likely to back off if you show that you are armed and ready to attack.
7 Survival Weapons You Can Buy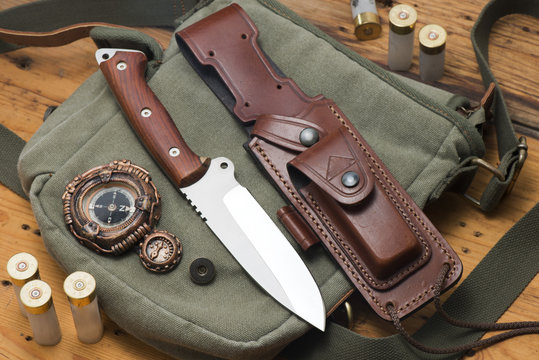 Things have changed since the times of the pioneers. More sophisticated and highly efficient tools have been made and are available in the market.
You can buy any of them as your survival weapon in the woods. Here are the 7 best weapons to consider:
Knives
Knives can be bought or made at home. There are different types and designs you can follow when making a knife.
Knives are among the most basic survival weapons you can buy from a nearby store for a few bucks. However, they require a lot of skills to effectively use for self-defense.
Unfortunately, many survivors don't invest in mastering the skills. As a result, knives are only suited as backup survival weapons.
You can choose the most affordable open blade knife or a more compact folding knife. Your option depends on your budget and the intended purpose.
But remember, folding knives have a high intimidation factor, are easy to carry, and can be easily operated using one hand.
Also read: 11 Best Knives for Off-Grid Living & Survival
Hatchets
Husqvarna 13″ Wooden Hatchet
Hatchets are an ideal option for short-range operations. With this survival tool in your hand, you can effectively defend your human assailant or animal attacker.
Hatchets are one tool that can be used in many ways. Apart from self-defense, you can use it to cut down and chop the trees needed to make a shelter.
Also, after making a kill, you can use hatchets to cut the hunt into portable pieces.
Lastly, hatchets have a blunt back that can be used to drive pegs into holes when erecting tents or securing livestock on a grazing field.
Hatchets are popular survival tools that have survived for centuries. They are portable and highly efficient. Fortunately, they are also very affordable.
You can buy a Husqvarna 13-inch Wooden Hatchet or any other brand for less than 20 dollars, but it can last a lifetime.
Guns
Guns or firearms are America's survival weapon of choice for a good reason. Many states have legalized the purchase of guns.
Residents are also licensed to carry them around. Also, they are effective at intimidating and harming opponents.
There is no other weapon as effective as guns for self-defense. However, that is not the only use of firearms.
Depending on the type, they can be used for hunting or sports. Different rifles are equipped with optics and can accurately aim at targets over a hundred yards away.
On the downside, guns require proper handling and many hours of practice to effectively use them.
Besides, they are dangerous weapons that can escalate crime rates if they fall into the hands of the wrong people.
Guns are also expensive and require skills to maintain. You will need a gunsmith if your weapon can't fire.
A firearm can cost as low as a few hundred dollars or thousands of dollars, depending on the type, make, and model.  
Also read: 19 Best Guns For Off-Grid Living
Slingshots
Daisy P51 Slingshot
Unlike guns, slingshots are cost-effective, and you don't have to buy ammo. You can scavenge for pebbles and other materials.
There are different slingshot designs, and each of them has disadvantages and advantages.
If you are in the market for a new one, consider the intended purpose. Some are more effective for hunting small game animals than for defending oneself.
The most recommended is the Daisy P51 Slingshot. This weapon is fully adjustable and flexible for taking more accurate shorts.
The surgical-grade tubing and rugged release pouch deliver enough power to harm the opponent. This slingshot and many others cost below 20 dollars. Cheap, right?
Slingshots are not effective survival weapons for self-defense. That is because of the time needed to load ammo between shots.
Also, you need a great deal of practice to learn how to accurately shoot with a slingshot.    
Machetes
Whetstone Cutlery 25-H229 'The Brute' Super Machete,Black
Many people don't appreciate the importance of a machete. This survival weapon has more uses than you had ever imagined. It is an essential tool that every survivor should have.
You can first visualize it as a defense tool against human assailants and animal predators that may attack you in the woods.
Though it is ineffective since you cannot use it to aim at a long-range target, it can help deter human opponents.
Another use of machetes is fetching and splitting or cutting firewood into the right pieces. The dry logs and twigs you will likely find are not portable. This is the right survival weapon to deploy.
Also, machetes can be used to make planting holes. If you don't have more effective tools, a machete will come in handy.
Once again, the machete requires experience to use for self-defense. Training is necessary to effectively defend yourself with it.
Machetes are more expensive than knives, slingshots, and hatchets but not more than guns.
On average, you should expect to spend about $45. A Whetstone Cutlery 25-H229 The Brute Super Machete, for example, costs about $43.
Bows/Crossbow 
Barnett Whitetail Hunter STR Mossy Oak Bottomland Crossbow
Barnett Whitetail Hunter Crossbow, with 4x32mm Multi-Reticle Scope, 2 Arrows, Lightweight Quiver, STR without Crank Device
BARNETT WHITETAIL HUNTER CROSSBOW STR WITHOUT CRANK DEVICE: Ultra-compact compound crossbow with complete hunting accessory package. The lightweight crossbow has a manageable profile that hunters of all sizes can handle and shoots 375 feet per second
EFFICIENT: Crossbow is equipped with Step-Through Riser (STR) technology that reduces the length of the crossbow and has an overall weight of just 6.6 lbs., creating an easily controllable profile that hunters of all skills and sizes can manage
SAFETY FEATURES: Soft Lok Floating Bristle Arrow Retainer, Anti-Dry Fire (ADF) Trigger System, Finger Safety reminders, TriggerTech Frictionless Release Technology
A bow and arrow can help you keep multiple assailants at bay by yourself if you are efficient at using the weapon.
Like guns, they can be used for long-range attacks. It is, however, more effective than guns because of its silent operation. A firearm without a silencer fixed will alert everyone when fired.
Bows and arrows are effective hunting and self-defense weapons. You can add them to your arsenals of survival weapons.
Fortunately, you can make them locally or opt for more effective and reliable readymade arrows and bows.
However, these ancient weapons require rigorous practice to master precision. But some modern bows are equipped with scope to aid in aiming at the target.
Also, they cannot be carried around like some survival weapons such as guns and knives.
The prices of bows and arrows are costly. It can range from a few hundred dollars to thousands of dollars.
Also read: Primitive Hunting: 5 Important Tools That You Can Use
Tomahawks
CRKT Kangee Tomahawk with Sheath
Tomahawks are improved versions of hatchets. The main difference is that they are lightweight.
As a result, you can use them for chopping or throwing at a distant target. However, you cannot use it to process wood as you do with a hatchet.
Tomahawks are best suited for manual utility and self-defense. You can effectively keep attackers at bay by holding this survival weapon in your hand and showing your aggression.
The prices of tomahawks also vary depending on the design and brand.
The recommended product for survival in the wood is the CRKT Kangee Tomahawk. This weapon costs about $195 but is the ultimate tool in your arsenals.
Also read: 15 Best Alternatives To Guns For Self Defense
11 Natural Weapons And Tools Made By Hand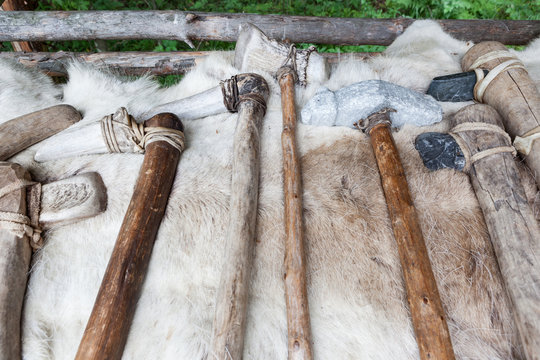 Before the industrial revolution that ushered in manufacturing, pioneers made survival weapons from hand and locally available materials.
If you are a true survivor, you should not fear following the same approach as situations may demand.
There are different survival weapons you can make through a DIY approach. Let us briefly discuss 11 natural weapons you can make effortlessly.
Rock Knife
Surviving in the woods without a knife is nearly impossible. But what if you are stuck in the jungle with only clothes on your body? You can still make a rock knife to use in foraging or hunting.
There are rocks around the globe that can split into razor-sharp blades. And the good news is that you don't have to be a geologist to find them.
Visit a nearby creek or riverbank to find an appropriate rock. Good stone examples include flint, chert, jasper, chalcedony, quartz, and obsidian.
Next, you will need to follow the steps to make the blade and handle and assemble everything together. Find detailed procedures at Instructables.
Bone Knives
Did you know that you can also make a primitive knife from bones? If you cannot find an appropriate rock for the blade nearby, a bone from your previous hunt can do the trick.
As the name suggests, a bone knife is made from the bones of deceased animals.
The chin and leg bones are the most appropriate for making the blade. Bone knives can cut through meat and non-woody plants, vegetables, and fruits.
Making a bone knife is straightforward, using just locally available tools.
Stone Ax
Axes are among the primitive tools that have existed to date. Despite the advanced modern methods, the idea still remains unchanged.
You can make a stone ax from rocks and a piece of wood for the handle. Also, you need a string to firmly secure the rock head to the handle.
Apart from the rock that forms the ax head, you also need a hammering rock. That is used to shape and sharpen the ax head.
Simple Club
A club has many uses. As a homesteader, you can use it for self-defense, driving pegs into the ground, setting up tents, and hitting beans and other harvests from husks.
Clubs are the easiest of all survival tools to make. Just repurpose a baseball bat, garden tool handle, or any length of wood.
Weighted Club
A weighted club is a modified version of a simple club. It involves adding more weight to the head of your club.
That extra weight improves its destructive power. You can do that by embedding some scrap metals to it or adding nails. The heavier it is, the more deadly the weapon becomes.
Remember, weighted clubs cannot do some things that a simple club does. That is because of the improved destructive power.
Throwing Stones
This is self-explanatory. Stones are enough survival weapons to help you defend yourself in case of an attack.
The choice of throwing stones depends on personal preferences and physical strength.
River rocks are the most recommended throwing stone you can use to chase away an assailant or animal predator trespassing into your property.   
Sling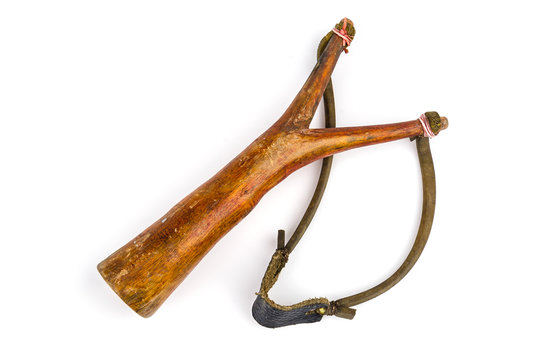 Slings are survival tools for throwing stones over a distance. They provide power that propels the stone ammo and causes harm to the target.
You can make a sling in simple steps. You will need a forked tree or a tree that branches into two, a leather projectile pouch, and a natural latex tubing.
The design specifications, such as size, depending on personal preferences.
Follow this YouTube tutorial to learn how to assemble everything together into a complete slingshot.
Atl-Atls
Atl-Atls or spear-thrower is a lever used to propel darts or spears at a greater force to cover more distance.
It was invented to overcome the limitation of the throwing power of the human arm. You can also make one from locally-available materials.
Get Atl-Atls DIY details to try out at home. With the right tools, the process should be pretty straightforward.
Spears
Modern spears use steel heads. Before that, pioneers relied on rocks to make spearheads. The same applies to arrows.
The first step is to find appropriate stones. Rocks such as chert and obsidian are recommended because they break with razor-sharp edges and are stronger.
Hit the stone with another, probably a heavier and harder one, from an 8-inch length. Choose the appropriate flake for your spearhead.
Create a notch at one end of the straight-grained wood stave and insert the chipped stone blade into it.
You can use any string such as shoelaces or cloth stripes to secure it on the wood. Your spear is ready for the adventure!
Blowgun
A blowgun is a tube through which a projectile is propelled by air blown into it. This survival weapon is primarily used for hunting and not self-defense.
Follow this step-by-step tutorial on how to make your own blowgun at home.
Bola  
Bola is a survival weapon consisting of a string with two or more heads with balls attached to them.
It is often used in hunting as it can easily entangle the animals to render them motionless. They may not be effective as a self-defense weapon.
To make a bola, tie three cords about 2-feet long using an overhand knot. Next, find round rocks, preferably river rocks the size of a golf ball.
The stones have to be secure with no room for coming loose. You can use a monkey fist knot to hold them in pouches before attaching them to the 2-feet long cords.
Also read: 6 Easy Basic Steps To Live In The Woods
The Final Words
Survival tools and weapons come in handy if you are in the woods. You should also master a few skills of making them if you forget to carry them along.
With appropriate weapons, you can survive a day longer in the woods.
Thank you for reading this article at Em Offgrid. We hope you have the information regarding tools and weapons.
Kindly share this article with friends, and we also invite you to explore the site for more content.