You may be planning for a long drive or going to live in the off-grid area with a camper van. Survival kits will enable you to explore outdoors conveniently and protect yourself in unsuitable conditions.
You can easily find hundreds of vehicle survival kits. But, you have to select the most effective and useful kits. You will have limited space in the car or camper van. 
So, it is an important issue to manage and carry the best survival kits for your vehicle.
Also, it is impossible to survive in some locations if you don't have the best vehicle survival kits.
So, keep reading. We present some excellent vehicle survival kits that will make your journey enjoyable. Let's get started. 
17 Items Should Be In Your Vehicle Survival Kit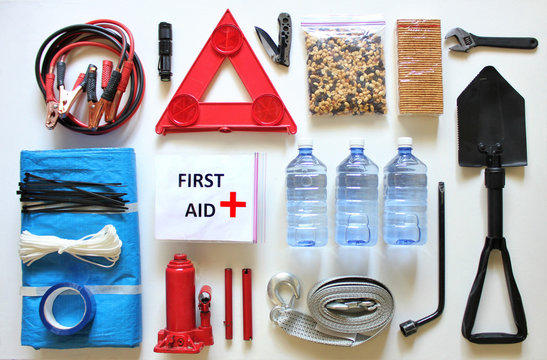 We include the best 17 must-have items for your vehicles. Our goal is to provide you with the best kits whether you are near the city or in a remote place. 
We select a map, compass, GPS unit to keep on the right track and avoid getting lost . At the same time, we include drinking water, fire starter, fast aid kit as  life saving items. 
We also consider the durability, necessity, and importance of every kit. 
These are the suitable and efficient survival kits for vehicles.
Map and compass
Fast aid kit
Fire starter
Drink we water
Food 
Portable water filter
Knife
Cordage
Fishing lines and hooks
Emergency survival whistle
Emergency lighting
Solar blanket or sleeping bag
Rain poncho
Mobile phone and charger
Handheld GPS unit
Simple tool kit
Extra medication
A Map And Compass
A map and a compass are must-have tools for directions and navigation. These kits will enable you to find and fix your geographic location.
You can follow the roads and reach your destination conveniently with a map. Similarly, the compass will be your best guide whether for cardinal direction whether you are in a forest or desert.
You might think about the satellite map or digital compass. But, we include these kits because of their emergency usage.
When you don't have access to the network or you are in a remote area, you can manually find your way.
First-aid Kit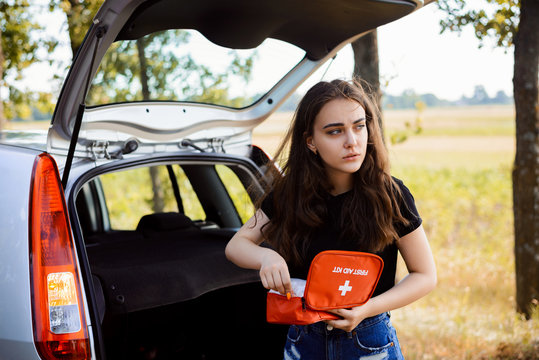 A first-aid box is a great kit for your car. It comes with useful and valuable medical supplies. 
This kit box works as a lifeguard in times of crisis. The box contains several items for primary treatment including:
Sterile gauze dressings, antiseptics & cleansers
Antibiotics
Adhesive Bandages.
Gauze Rolls / Gauze Pads / Trauma Dressings.
First Aid Tapes.
Wraps & Bandages
First Aid Instruments – Scissors / Tweezers / Tongue Depressors.
Gloves / PPE
So, it will allow you to prepare yourself for unpredictable accidents. Similarly, you can enhance safety with your own medications and necessities.
Fire Starter
A fire starter will allow you to start a fire outdoors. With this kit, you can conveniently begin wood or coal firing.
It comes with a complete package, including flammable sticks or small pieces of wood.
You should keep this device in your car or camping van. If you have a quality fire starter, you will get fire anywhere.
It will allow you to survive in emergency conditions. Besides, a fire starter is a must-have kit for campers. 
Check out: Sodium Fire Starter: 4 Easy Instructions
Drinking Water
Can you imagine a day without pure water? Drinking water refers to the water that is safe to drink and suitable for food preparation.
You have to drink a certain amount of water daily to keep your body fit. 
You can live between two and three months without food. But, it is impossible to survive about three days without drinking water. 
The main duty of water is to keep your body physically active and help the digestive system to work properly. Besides, you can cook with fresh drinking water. 
Water will keep you fit in any environment. In your car, you should preserve drinking water.
Food (Granola, Energy, Or Protein Bars)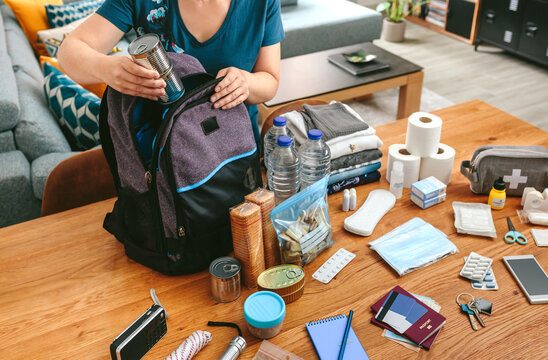 Dry foods are the best source of instant energy. You can preserve them for a long time and use items instantly. Granola or Protein bars are the most used food for campers and drivers. 
When you are on the road for a long way, you can preserve these items on your car or vehicle. You don't need to prepare breakfast, and you can enjoy the ready-to-eat meal quickly.
Sometimes, you might be stuck in a remote place. In this situation, you will have a stable food solution.
Portable Water Filters
You need a water filter as an additional backup during survival. It will provide you clean water when reserved water is finished.
Besides, you can use the filtered water for cooking and washing different items. 
A portable water filter is a tool used for water purification. By using a filter, you can purify water for instant use.
Several types of water filters are available. You should select the most efficient one for cars and vehicles. 
You should prioritize a water filter as a vehicle kit. It will enable you to get water from raw sources. Similarly, a filter will allow you to reduce the water preservation space.
Also read: 3 Ways To Make Survival Water Filter
Knife
This cutting instrument with a sharp blade and durable handle can be used as a kitchen tool, regular cutting device, and survival weapon.
A knife is easy to carry. You can apply it in the most difficult situations. 
You can cut everything from wood to fruit with a quality knife. In your vehicle, you must store some knives.
It will enable you to manage, cut, and prepare things. Besides, you will have a protection tool.
Check out: 11 Best Knives for Off-Grid Living & Survival
Cordage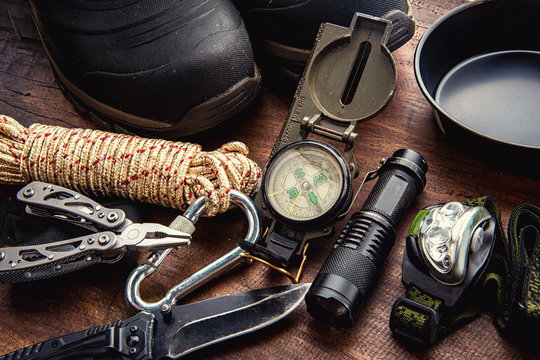 Cordage is a kind of rope. It is especially used for ships, trucks, and weight lifting. 
The rope is a combination of yarns, plies, and fibers. The materials are twisted together to get a stronger form.
You have to include this item in your vehicle toolbox for its versatile use. It is a life-saving tool in a survival situation.
You can use cordage to trap triggers, mud rescue, and pull damaged vehicles. 
ATERET Twisted ProManila Rope Cordage
ATERET Twisted ProManila - UnManila Rope I 1 inch x 50 feet I 3 Strand Synthetic Polypropylene Rope I Multipurpose, Lightweight, Weather-Resistant Cord for Decor, Landscaping & DIY Projects
ATERET TWISTED POLYPRO ROPE: Our high-quality UnManila rope is a versatile, all-purpose utility cord that is perfect for a wide range of indoor and outdoor applications. It's stronger than traditional manila fiber and has excellent shock absorption and UV resistance. Whether you're a homeowner, contractor, or business owner, our UnManila rope is a reliable and affordable solution for your needs.
STRENGTH AND RESISTANCE: Made of durable polypropylene, this rope is highly resistant to temperature, weather, chemicals, oils, and abrasions, making it perfect for use in challenging environments. The twisted polypro rope fibers are lightweight with a high-tensile strength for longer-lasting knots and performance.
AFFORDABLE AND RELIABLE: Our UnManila rope is an affordable alternative to natural manila that provides better performance at a cheaper price point. It's a great choice for large commercial, construction, or home improvement projects, as well as for everyday tasks around the house.
Fishing Line And Hooks
Survival lovers are always excited to catch fish. It is the basic skill that fills your needs riverside. Fishing lines and hooks are the combinations to catch fish from a water body. 
You can use fiber cordage as a fishing line too. Similarly, the hook is the gear where the fish will be fixed while taking the bait.
By using fishing lines and hooks, you can conveniently manage food. It allows you to survive in a remote place. It is a great tool that you can include in your survival vehicle.
Emergency Survival Whistle
It is a potential survival tool that will allow you to spread signals during an emergency. The whistle is a great way to alert people or grab their attention in dangerous situations.
An emergency survival whistle is listed as a car kit for its versatile usage. You can use it in case of a road crash, earthquake, fire, or flood.
It will enable you to escape from an uncertain situation and help other people too. 
Emergency Lighting
Emergency lighting can be any light that will give you light in an emergency. Survival vehicles or passengers should include this kit to overcome a dangerous situation.
It might be a torchlight, flashlight, or portable floodlight. 
By using an emergency light, you can get out of a dark area. It will make you confident during the night and enable you to survive safely.
Collapsible Portable LED Camping Lantern XTAUTO Lightweight Waterproof Solar USB Rechargeable LED Flashlight Survival
Sale
Collapsible Portable LED Camping Lantern XTAUTO Lightweight Waterproof Solar USB Rechargeable LED Flashlight Survival Kits for Indoor Outdoor Home Emergency Light Power Outages Hiking Hurricane 4-Pack
【360° Lighting Coverage】Adopts 6+1 high-intensity LED chips, energy efficient/with wide range of visibility. Doubles as both a lantern & as a flashlight, adjust the brightness by how high up you pull up the lantern, providing tons of light at full open, easily light up an entire room.
【Lightweight & Portable】Collapsible design, as small as a phone when collapsed, easy to carry. With folding handle, can be hang it on tents or tree, free your hands. The extremely lightweight design also fit for young child, everyone can have a reliable light to access when needed.
【Durable & Waterproof】Made of high quality ABS material, ensures a long-time durability and water resistant, heat-resistant, freeze resistant, trouble-free in tough environment. More than 25 hours Long Last Lighting when fully charged, perfect for indoor or outdoor activities.
Solar Blanket Or Sleeping Bag/Tarp
A Solar blanket or sleeping bag is a great tool for outdoor sleeping. This portable bag contains a pillow, blanket, and foldable air bed. 
The solar blanket will enhance the temperature with the help of sunlight.
You can use them for emergency sleeping outdoors. Similarly, this item can be used during natural disasters when you can't access your home. 
Rain poncho
A Rain poncho works like a raincoat or jacket in wet situations. It will protect your body during rain and snow. The lightweight design and quick access make it ideal for survival.
You can wear a rain poncho when facing rain on the road or get out of the vehicle on a rainy day. It takes less room and is easy to store. Besides, the unisex design makes it ideal for survival lovers.
Mobile Phone And Charger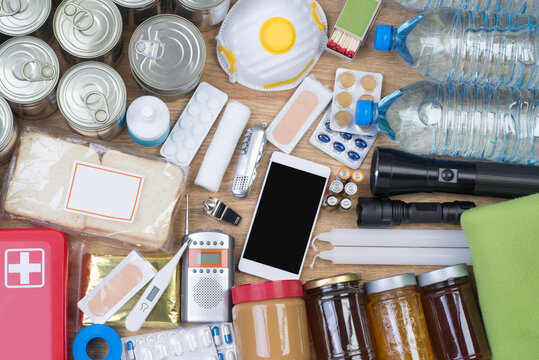 We think you know well what a mobile phone and charger are used for. You might store an additional mobile phone and charger in your vehicle. 
Though most vehicles contain charging ports and power options, it is important to store an extra piece.
You can communicate and keep your phone turned on if you have a charger with you. Similarly, a mobile phone will allow you to contact in an emergency. 
Hand-held Gps Unit
A hand-held GPS unit is a location tracking tool. You can track your current location and identify destinations with this pocket tool. 
The kit is handy, and it will allow you to explore unknown roads. It will keep you on the right track and make your journey hassle-free.
Simple Tool Kit
The simple tool kit is a combination of different tools and kits. These are the primary tools that will be required for your vehicle. The box contains the necessary items from screwdrivers to cutters.
You can easily resolve the sudden problems of your vehicle where there is no garage and mechanic.
Extra Medication That You Can't Be Without For More Than A Day
Finally, we include the extra medication in this list. If you are taking medicine regularly, you have to store them in the vehicle. You might be stopped at a place where medical supplies are not available.
So, it is important to store extra medication that will be required daily. 
Conclusion
In conclusion, it can be said that vehicle survival kits will make your survival life easy and work as a life-saving tool.
You have to include necessary items that will allow you to survive in any condition and location.
Remember, you will have limited storage space in the car or vehicle. So, you should prioritize more useful items.
The necessity and usability might be different depending on your location and vehicle. Some vehicles come with the necessary tools and kits.
You can check the best survival vehicles and tools here. Our goal is to provide you with an effective solution for survival and outdoor life.