Your life on or off-grid can be interesting until you lose your communication device. That can happen due to a power outage or when a disaster strikes.
It can be devastating if you need urgent help and don't have an off-grid communication device.
If you live off the grid, it doesn't mean you stop connecting to the rest of the world. You still need a reliable off-grid communication system to keep in touch with your family and friends or call for help.
Different off-grid communication systems exist. This article focuses on the best options to consider that will keep you connected regardless of the situation. Read on for more details!
Why Is Off-grid Communication Important?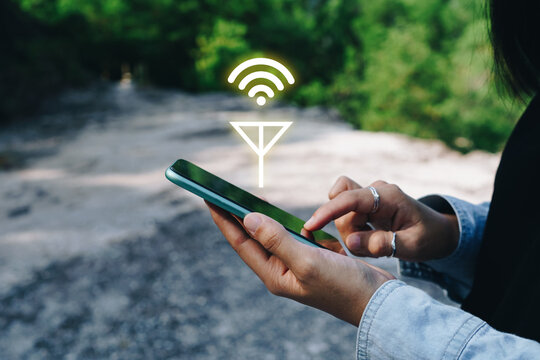 Going off-grid does not mean you cut the connection with your family and friends. You still need to keep in touch.
And for that to be possible, you need a communication medium. It is still important to get updates about the world around you and not live in isolation.
Living off-grid often means staying away from health facilities and emergency services. While you are supposed to consider that before going off-grid, you may still need to call for help.
Off-grid communication is crucial for survival. You need the best way to connect to the rest of the world even when there is no satellite communication or weak signal in the area.
Knowing alternative off-grid methods and staying connected can be a lifesaver!
Most off-gridders like outdoor activities such as hiking, backpacking, camping, etc. We know how risky they are. Hence, the need to have a communication system.
Off-grid communication systems are not for off-gridders only. There can be instances when you need an alternative means of talking to another person.
Think of the time of terror attacks, disasters, and phone reception congestion, just to mention a few.
Grid networks can be shorted, crippled, or destroyed, leaving you with no option to use your usual cell phone.
An off-grid communication device ensures you can still talk to someone during these testing times.
5 Importance Factors To Choose Phone Or Communication Device When Living Off-Grid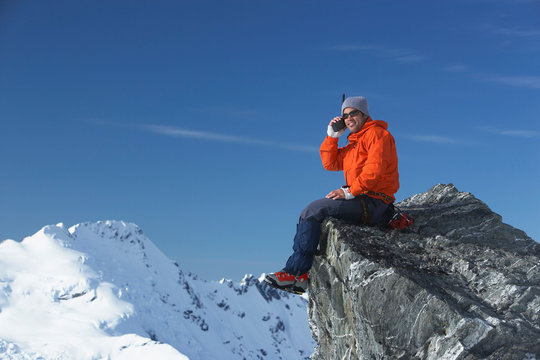 You will come across different phones and communication devices you can use for off-grid communication.
But how do you know what to buy or what suits your situation? There are 5 factors to consider, which include the following:
Audio signals
Range to reach
Ease-of-use
Durability
Cost
Let's briefly explain what each factor entails to help you make an information-based buying decision.
Audio Signals
Communication doesn't have to be through audio systems, but it's the fastest and most convenient.
If you have a chance to buy an audio off-grid communication device, grab it. It helps you stay connected and reach anyone for help or just a catch-up.
Also, you should consider audio signal quality. Whatever the person is saying on the other end should be clear and without distortions.  
Range To Reach
The range is also a crucial factor to consider. Can that off-grid communication device reach the mountains when you go hiking?
Even if it can't cover the long-distance, it should connect you with the rest of the world from your property.
Ease-of-use
Some communication devices are too complex for an off-gridder with limited tech skills and resources. Consider how easy it is to set up and use it. The easier it is, the better.
Durability
You don't want to be in the market for a new off-grid communication device every year.
Durability is another crucial factor you should consider when shopping for such a product. Also, you may consider the built quality and ability to withstand harsh conditions in the wilderness.
Cost
An off-gridder has all the reasons to choose affordable products, but don't trade it off with quality and reliability.
Find a perfect balance between the cost of an off-grid communication device and its performance. Go for competitively priced products with the best value for your money.
Top 3 Option Phones For Off-grid Communication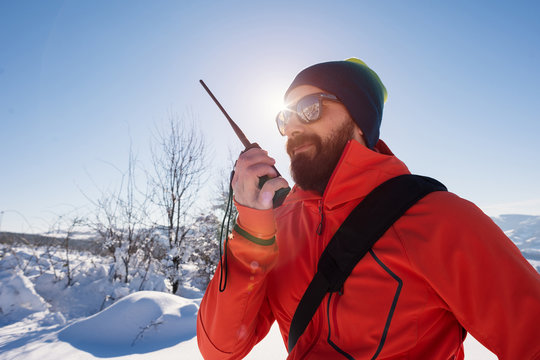 Living off-grid does not mean living primitively. You can still have a cell phone to help you stay connected and know what's happening.
Phones are the most convenient and portable communication devices that will make your life off the grid worthwhile.
There are three off-grid phone options to consider. They include the following:
Cell phone
Landline
Satellite phone
Each of these options has its capabilities, pros, and cons. Let's briefly discuss these three phone options for off-grid communication.
Cell Phone
Almost everyone who is not a minor has a cell phone. You should keep it that way when switching to an off-grid lifestyle to stay connected.
It will help you speak to anyone you want when you want to.
Fortunately, technological advancement has made it possible to use your cell phone almost anywhere on the planet.
You don't have to worry about the range coverage if you still have electrical energy in the battery to power your device.
A cell phone should be your number one choice of an off-grid communication device because it's convenient and small enough to fit into your pocket.
You can carry it around when hunting, hiking, foraging, or camping.
The cell phone options are overwhelming. What you choose only depends on your preferences, but you should not forget about the battery life and signal quality.
The longer the phone can stay powered without recharging, the better it is for you if you live off-grid.
Pros:
Compact and portable
Wide range
Convenient to use if you need help
Quality audio signals
Doubles up as an entertainment system
Great tracking abilities
Cons:
Recharging when the battery runs out can be a challenge
Subscriptions required to stay connected
High upfront cost for some cell phone brands
Landline
Cell phones are slowly but steadily phasing out landlines but still remain a viable option for off-grid communication.
This technology may become obsolete in the next decade. However, you can still consider it for its advantages.
Unlike cell phones that depend on battery power, landline devices draw power from the communication lines. The cost of installation is high for this option.
But you will have a way to communicate with others even if you don't have another power source. We all understand how electric power can be a limited commodity for off-gridders.
Landlines use a different technology that's not as complicated as cell phones. You don't need access to a cell tower for signal coverage.
Once installed, you will not have communication network congestion or coverage problems.
When you speak through a landline, a microphone picks up the sound and converts it to an electrical signal that travels through the wire to the receiving end.
The receiver converts the electrical signal back to audible sound using a speaker. That way, the landline supports 2-way communication.
Some advanced landline networks use optical cables for faster signal transmission.
VTech CS6114 DECT 6.0: This landline works the same way as a cell phone.
It's wireless and features a backlit keypad and LCD screen to view the caller ID, name, and call time. The phone stores up to 30 call records.
VTech CS6114 DECT 6.0 Cordless Phone with Caller ID/Call Waiting
Sale
VTech CS6114 DECT 6.0 also boasts crystal-clear, two-way communication. There are no interferences with other wireless networks on your property.
It is a viable choice if you need a backup landline phone on your property!
The product is easy to install and use. The process is as simple as plugging the base into a wall outlet, and you are ready to go.
Pros:
Fewer dropped calls
Useful in emergency situations
High call quality
Acts as a poof of where you live
Does not need an external power source to work
Durable
Cons:
Expensive to install
Wired – not portable
Prone to telemarketing spam
Long distances equal high bill
Satellite Phone
As the name suggests, satellite phones use a satellite network instead of cell towers or wires. Using them comes with all benefits of a cell phone and much more!
Satellites are gadgets sent to space and orbit around the earth by different companies, including NASA. Companies have satellite networks to which their phones connect for communication purposes.
Satellite networks may be location-specific. So, before buying a satellite phone, check if your area is covered by that company.
Once you purchase your satellite phone subscription plan, you can make calls, send text messages, and access the internet.
Satellite phones are more reliable than cell phones. The signals are strong, and every area covered by the service provider gets maximum signal strength.
They may be costly, but you can never have dropped calls or connection issues.
Different companies offer satellite phone services. If you are in the market for a new one, consider the following options:
Iridium Extreme 9575
This phone is the ultimate choice for off-grid communication. Besides the usual phone functions, you can also use Iridium Extreme 9575 to track your position using GPS.
Iridium 9575 Extreme Satellite Phone
It also has an emergency SOS button for calling for help from anywhere. This will be the best option if you like hiking or adventure in the wilderness.
The phone has military-grade durability and illuminated weather-resistant buttons. The battery gives you up to 4 hours of talk time and 30 hours of standby time.
Garmin Montana 700i
If you have a little more to spend on an off-grid communication device, buy the Garmin Montana 700i satellite phone.
Garmin Montana 700i
Sale
Garmin Montana 700i, Rugged GPS Handheld with Built-in inReach Satellite Technology, Glove-Friendly 5" Color Touchscreen
Features rugged military-grade construction and a 5" touchscreen display that's 50% larger than the previous model; offers easy viewability and includes versatile mounting solutions.Control Method:Touch,Application.Special Feature:Routable Topo Maps; Multiple GNSS Networks, ABC Sensors; inReach Satellite Communication; BirdsEye Satellite Imagery.
Trigger an interactive SOS to the GEOS 24/7 monitoring center — two-way messaging via the 100% global Iridium satellite network (active satellite subscription required; some jurisdictions regulate or prohibit the use of satellite communications devices).
Multi-GNSS (GPS and Galileo) support — plus preloaded TopoActive maps and City Navigator street map navigation; navigation sensors include 3-axis compass and barometric altimeter
The device features rugged military-grade construction, an interactive SOS to the GEOS 24/7 monitoring system trigger, and navigation features.
This product allows you to make calls, send messages, track locations, and use live maps for navigation. Its high price is worthy of the features it offers. You can also check it out!
Inmarsat IsatPhone 2.1
Inmarsat IsatPhone is a cost-effective option for the Garmin Montana satellite phone. It also comes with great features such as voice, SMS, GPS tracking, and SOS global coverage.
2021 Unlocked IsatPhone 2.1 Satellite Phone
2021 Unlocked IsatPhone 2.1 Satellite Phone - Voice, SMS, GPS Tracking, SOS Global Coverage - Water Resistant - Sim Card Included (No Airtime) - Prepaid and Monthly Plans Available…
SERVICE PLAN OPTIONS: Package does not include a SIM card. After purchasing a plan we will overnight a SIM card to you and you will have it in less than 24 hours.. Purchase minutes whenever you need them, or get setup with monthly service and enjoy uninterrupted connectivity.
GLOBAL COVERAGE: NO ROAMING CHARGES: Make and receive voice calls, SMS, track your position with GPS from anywhere on the globe and never pay roaming charges. Your coverage area is EARTH (except the extreme north and south polar regions)
PACKAGE INCLUDES: Inmarsat IsatPhone 2 satellite phone handset, Lithium-ion battery, International AC wall charger with international plugs, Car DC charger, Holster with a belt clip, Hands free earpiece, Lanyard, USB cable, USB thumb drive with documentation, Quick start guide, Satellite Phone Store SIM card and 1 year manufacturers warranty.
The product is water, dust, and shock-resistant. It comes with a sim card, but you don't need airtime. You can choose prepaid and monthly plans that suit your needs to get ready to explore the jungle.
Its battery has a long lifetime, giving you 8 hours of talk time and 160 hours on standby.
Pros And Cons of Satellite Phones
Pros:
More reliable than cell phones and landlines
High privacy
Fast internet access
Supports GPS tracking
Global coverage
SOS button for calling emergency help
Cons:
Big and heavy
Expensive
Possible downtimes due to satellite faults
High subscription charges
9 Other Devices Off-Grid Communication
Phones make excellent off-grid communication devices, but you also have alternatives to consider.
You can check them out if you have the budget and don't mind installing and using them. There are nine options, which include the following:
GoTenna Mesh
Spot 3 Satellite GPS Messenger
Garmin inReach Explorer+
Spot X 2-Way Satellite Messenger
Radacat Team Messenger
Gotoky
Fogo
Ham Radio
Walkie-Talkies
GoTenna Mesh
goTenna Mesh is the best communication option and device if you are in an area with no power, mobile network, or Wi-Fi connection.
It pairs with phones and allows communications among parties up to 4 miles away.
Hikers and mountain climbers like this device because it makes offline communication possible and allows groups to keep in touch even in places with weak or low signals.
It also comes in handy for sharing GPS locations, creating group chats, downloading maps, and sending messages.
Spot 3 Satellite GPS Messenger
SPOT Gen3 is a satellite GPS messenger that offers one-way communications, SOS alerting, and follow-me tracking.
Spot 3 Satellite GPS Messenger
If there is an emergency, the rescue team can know your location and come to your aid.
The product features a custom tracking rate and motion-activated tracking. That allows it to double up as a theft tracker.
Just place it on your asset or luggage, and it will start transmitting the GPS coordinates when motion is detected.  
Garmin inReach Explorer+
Gemini inReach Explorer+ is a handheld Satellite Communicator which you to send text messages for 2-way communication.
Garmin inReach Explorer+
Sale
You can also use it to trigger an interactive SOS to a 24/7 monitoring center and track and share your location.
It comes preloaded with Delorme topo maps, a digital compass, accelerometer, and barometric altimeter.
It can be an excellent off-grid communication device if you don't mind the
Spot X with Bluetooth 2-Way Satellite Messenger
This helps you exchange text messages and emails with cell phones. It is an ideal choice for an emergency situation because of its features and capabilities.
Spot X with Bluetooth 2-Way Satellite Messenger
Sale
You can use it to send SOS signals to search and rescue centers and get a feedback message.
It also has Google Maps for navigation and supports tracking. So, your family and friends can know where you are.
Radacat Team Messenger
Radacat is a radio communication device that allows you to set up your private communication network.
Radacat Messenger C1 Off-Grid GPS Communicator
Radacat Messenger C1 Off-Grid GPS Communicator and Tracker Without Monthly Fee and Cell Signal | Connect with Phone via Bluetooth and Compatible with Android & iOS for Outdoor Activities
𝐎𝐅𝐅-𝐆𝐑𝐈𝐃 𝐆𝐏𝐒 𝐂𝐎𝐌𝐌𝐔𝐍𝐈𝐂𝐀𝐓𝐎𝐑: Radacat Messenger C1 GPS Tracker allows to use offline GPS, send text and voice messages, and real-time locations to other Team Messenger C1 users when cellular service is unavailable by mobile app. Minimum 2 devices to communicate.
𝐕𝐄𝐑𝐒𝐀𝐓𝐈𝐋𝐄 𝐅𝐔𝐍𝐂𝐓𝐈𝐎𝐍𝐒: No cell signal, monthly fee, wifi are required with C1 GPS Tracker. Enjoy long range mesh networking, offline maps, and location tracking plus sharing in an emergency situation.
𝐒𝐈𝐙𝐄 𝐀𝐍𝐃 𝐅𝐔𝐍𝐂𝐓𝐈𝐎𝐍𝐀𝐋𝐈𝐓𝐘: GPS Tracker measures 4.3 inches in height, 1.5 inches in width, and 0.6 inches Thin. Comes with power and special function button, OLED status screen, micro USB charging port, and silicone case to make it user-friendly.
You can also use it for GPS tracking, voice, and text messaging. The good side of this device is that you don't need any cell services or Wi-Fi. Once you buy it, you use it for free.
It pairs with your phone via Bluetooth, and you need more than one to create a network for your team.
Gotoky
Gotoky is another viable option for off-grid communication.
It depends on a mesh network to allow you to send text messages, make voice calls, navigate your way, and call for emergency help.
Gotoky pairs with your cell phone via Bluetooth to connect with another Gotoky product that's miles away.
With this device, you can share locations and record messages. It can store up to 1,000 messages.
Fogo
Fogo is a communication device that combines three functions in one. You can use it as a walkie-talkie, flashlight, and GPS and serve as a backup battery for your cell phone.
The device is perfect for activity tracking, especially for those who like outdoor sports such as mountain climbing, skydiving, etc.
Fogo will send you the speed, elevation, distance, time, and other parameters.
Fogo is waterproof and can work in extremely harsh conditions. It boasts the longest-lasting battery that can go up to a month.  
Ham Radio
Ham radio is a cheaper option for off-grid communication. However, it is only best suited for those who live off-grid in remote locations.
It is not the best choice if you like outdoor activities.
Ham radios are also an alternative in an emergency situation or when a disaster strikes. You can use it to call for help!
There are different brands to consider, but the following are the most common and reliable:
BTECH UV-5X3 5 Watt Tri-Band Radio
Cobra MR HH350 FLT Handheld Floating VHF Radio
Walkie-Talkies
Walkie-talkie technology can be viewed as obsolete, but they are still helpful. You need a pair or more if you are a group and tune to the same frequency.
They are the best option for group hikers and adventurous exploring the remote countries.
A walkie-talkie allows communication up to about 36 miles range, depending on the brand. However, there is no privacy as everyone on the line hears what anyone else is saying.
Consider the following options:
Conclusion
Communication devices are vital, whether you live off the grid or not. Relying on your cell phone alone can leave you stranded during emergencies and when disasters strike.
Buy any off-grid communication system mentioned for backup and stay connected all through.
Thank you for reading this article at Em Offgrid. We appreciate your time and ask you to kindly share it with your friends to educate others.
Also read: 12 Intelligent ways To Stay Connected When Living Off-grid