Hand washing clothes is tedious. Choosing the finest off-grid washing machine for your off-grid existence can be difficult, with energy-efficient electric versions vying against powerful manual machines.
Living on your off-grid farm can be a lot of fun. However, it will be less enjoyable if you continually battle to keep your clothes clean.
A washing machine is something that most of us believe to be a need in our daily lives. When living off the grid, though, you may need to be resourceful and think outside the box.
11 Washing Machine Alternatives For Off-Grid Living
When it comes to doing your clothes off the grid, you have a few options.
To assist you in making your purchase, we've combed the internet for the best off-grid washing machine alternatives based on price, efficiency, and ease of use.
There are eleven options to pick from, so there's bound to be one that's ideal for your off-grid homestead, tiny house, or a green pre-built kit home.
Laundry By Hand With A Bucket
This is the most straightforward method. Gather a pail, some water, and some dishwashing liquid.
You can wash your things in the bucket if you only have these basic tools and receive clean bedding, underwear, shirts, and trousers.
It makes no difference whether the bucket is square or rectangular. Simply fill it halfway with cold or warm water and add the detergent to taste.
Soak the clothing in it and scrub them thoroughly, even against each other.
Soak the garments for 10 minutes before draining the soapy water. Rinse your garments with clean water in the sink, tub, or shower until the soapiness is gone.
That's all there is to it. You may either hang them to dry or throw them in the dryer if you have one.
Alternatively, check out these clothes wringer alternatives to ensure you have one on hand.
Also read: How To Wash Clothes Without A Washer- 2 Ways & 5 Easy Steps
Scrubba Portable Wash Bag
The Scrubba Wash Bag is a small product that you can use in place of your washing machine while you are off-grid.
Scrubba Portable Wash Bag
Scrubba Portable Wash Bag – Foldable Hand Washing Machine for Hotel and Travel – Light and Small Eco-friendly Camping Laundry Bag for Washing Clothes Anywhere
FAST & CONVENIENT: The patented washboard-in-a-bag design gives a machine quality wash in just minutes and you can wash anywhere – perfect for hotels, hostels, camping, backpacking, dorm rooms, RVs and scout trips.
SO SMALL AND LIGHT: Weighing just 5.3 oz. and folding to pocket-size, this world's smallest washing machine takes up no space and lets you travel clean, light and free.
EASY TO USE: Space, water and time-saving, and electricity free. With the simple six-step instructions displayed on the outside of the bag, anyone can wash clothes quickly, hygienically, and effectively and reduce their impact on the environment
Its weight is lesser than that of an apple which makes it remarkably easy to carry around. 
Its unique nature is born of the numerous nodules that can be found in it. These nodules enable it to operate as a more flexible version of the washboard that will help you get your cloth clean in a few minutes.
Unlike a typical washboard, though, it fits conveniently into your backpack.
The plastic it's made of is sturdy and resilient, and it's highly waterproof, so nothing will soak through. It's also incredibly easy to clean.
Get 2 to 3 liters of water and pour it into the bag along with your cleaning fluid, then seal it and remove the air with the air release valve situated on the side of the bag.
Ensure the bag is rubbed for as little as 30 seconds to make sure your clothes are properly cleaned in 3 minutes.
Rinsing can be done in the bag or the shower, and then all that's left is to wring the garments out and hang them to dry!
The Laundry Alternative Wonderwash Non-electric
Because it folds up and fits perfectly in your RV, the Wonder Wash laundry alternative and other products with a similar design idea have become quite popular, especially with campers.
The Laundry Alternative Wonderwash Non-electric Portable Compact Mini Washing Machine
WonderWash Portable Mini Washing Machine for Apartment & Tiny Spaces - Manual Hand Clothes Washer with Retro Design - Clean Laundry Anywhere with Our Countertop, Non-Electric, Small Washer - White
Compact, Non-Electric - The Laundry Alternative's WonderWash Portable Washing Machine is a mini washer that is perfect for apartments, singles, boats, RVs, and used small frequent loads like hand washables and diapers. Our portable washer is a hand-crank unit that can wash a 5-lb. load. Clean clothes in just a couple of minutes, using less water than even hand washing and no electricity.
High-Quality Material: The Wonderwash manual washing machine is made of high-quality ABS material, environmentally friendly, durable, and wear-resistant. Our manual washing machine is also portable and compact. Perfect for your limited space such as a dorm, apartment, condo, motor home, RV, camping, and more.
Portable and Stylish Retro Design - for convenient space-saving placements. Our manual washer is ideal for small delicates such as, woolens, silks, knitted dresses, cashmere garments, and diapers.
A hand crank powers it, so there is no need for electricity, yet it is recommended that you wash with hot water if feasible.
The Wonder Wash can handle up to five pounds of laundry in a single wash, which, according to several reviewers, is more than they expected.
However, if you have more than one person in your household, you will most likely need to perform many loads to meet all of your laundry demands.
It is, however, a good choice for little loads or when you need to wash a few important items quickly in between your regular laundry days.
Washing Wand Hand
The Washing Wand Hand employs the plunging option to assist with laundry. To use this device, put the wand on your clothes and put it in a bucket filled with water and cleaning fluid.
EasyGoProducts Wand Manual Clothing Washer-Hand
Washing Wand – The Green Solution to Washing Clothes – Great for Apartments, Camping, RV's, Cabins and Boats
Portable Strong Design: Patent pending design of Washing Wand is so portable it fits in 8 X 8 X 8 Inches box and the corrosion proof plastic design is 100% waterproof and will not warp, bend, or splinter
Easy to Use and Effective: Fill (2) 5 gallon buckets partially filled with water then add laundry detergent and place clothes inside. Then place Washing Wand on top of clothes and push down and pull up to activate the washing and cleaning of clothes. The water is pushed and sucked through the clothes to provide a thorough cleaning
Ergonomic Environmental Design: Designed with a shovel type handle design. This allows for easy usage by not having to bend completely over to use it
Once this is done, push down and pull up to activate the washing process.
This movement is similar to the agitation in a standard electric washing machine.
The wand is constructed of plastic and has a shovel-style handle, requiring little bending on your part. However, you will still have to wring your things out by hand.
One advantage of the wand over a standard plunger is that it has perforations in the cone that push and suck the water, allowing for a more thorough cleaning.
The wand's cone is preferable because it features a mesh grate on the bottom that prevents garments from entering the cone area, enabling more water and air to circulate.
It is, however, a good choice for little loads or when you need to wash a few important items quickly in between your regular laundry days.
Washboard & Bathtub
They used to be composed of wood and metal, but now they're also constructed of silicone.
They're also sold with colorful artwork, so they can be used as a home decoration when you're not using them. Washboards work in the same way as a bucket and brush do.
Behrens Manufacturing BWBG12 Galvanized Washboard
Sale
Instead of soaking your dirty clothes in soapy water, you'll apply the soap directly to your washboard and, if desired, to the worst spots on your clothes.
You'll then "scrub" your garments up and down on your washboard until you've completely washed the garment or are happy that you've reached the dirtier areas.
You're ready to go on to the next thing in your bucket after putting it in your rinse water.
Extra filthy objects can be soaked overnight to help erase stains.
Washboard Basin
This is the next-level version of bucket handwashing. A Japanese invention is the washboard and basin bucket. In the middle of the bucket-like construction is a hard, rough surface.
Ohisu Blue Washboard Basin
It's a good modern take on the hand washing alternatives, which is how people used to do their clothes before the invention of the washing machine.
It can be used to apply soap to clothes or aid in removing dirt and grime when washing.
Wash your clothing as you normally would in a bucket and hang them to dry. The ridged surface makes cleaning the item of clothing a little easier.
The Laundry POD
The Laundry POD is a perfect alternative to a washing machine for individuals with limited space. It's a portable machine that isn't powered by electricity.
The Laundry POD, White
The Laundry POD, White
Washing Device
Measures 14.45 by 14.02 by 13.55
Easy to use spinning, washing and draining system, clean clothes in less than 10 minutes
It can hold roughly 9 or 10 pieces of moderately sized garments.
As a result, this is ideal for fragile things and is simple to use.
Take your clothes inside and place them in the basket. Pour one gallon of water into the pod and evenly distribute the detergent over the garments.
Replace the top on the pod and churn your garments in a circular motion with the handle.
Portable Mini Washing Machine Lightweight Collapsible Bucket
The folding laundry tub is ideal for washing light, separate-cleaning items like ties, T-shirts, underwear, and baby garments. (However, pants, coats, and other heavy garments are not recommended.)
Portable Mini Washing Machine
Pyle Portable Mini Washing Machine Lightweight Collapsible Bucket - Perfect for Camping, Travelling, Apartment, Dorm USA Brand - Pure Clean PUCWM33
4.4 LB LOAD CAPACITY: This folding washing machine features 2 kg or 4.41 lbs. wash capacity. Perfect for washing light clothes that require separate cleanings like baby clothes, underwear, towels, socks, T-shirts, tank tops, toys, or other small items
ENERGY-SAVING: The collapsible washing machine mini foldable washer uses high-frequency vibration to effectively remove dirt without residue and irritants. Energy-saving and environmental protection, saving water and electricity
FOLDABLE DESIGN: Pure Clean foldable laundry tub washing machine features a foldable and portable bucket type design for easy storage When not in use. Can easily fit under the stool or under the bed and will not take up much space in your house
Advanced technology is used to create small bubbles and stains, disperse and emulsify quickly, and achieve a deep cleaning effect.
You can just load your clothing, fill it with water, and start washing with our foldable portable washing machine!
Foldable design, small size, and minimal storage. It's portable and easy to transport. It's ideal for dorms, apartments, business trips, travel, and other situations.
Portable Mini Clothes Washing Machine That goes Anywhere
Wash your clothes while saving space, money, and water with an electric portable compact washing machine that goes wherever you go. 12 x 18 inches, 10-liter capacity.
As Seen On TV 347034-BC00380150 Partable Wonder Washer
As Seen On TV 347034-BC00380150 Partable Wonder Washer
THE WONDER WASHER - an electric portable mini washing machine that goes anywhere with you; wash your clothes and save space,money and water; 10 Liter capacity, 12 x 18 inches
CONVENIENT AND PORTABLE - do your laundry anywhere; the lightweight design includes carrying handle for easy transportation and stores away discretely when not in use; no need to connect to a water source
CLEAN CLOTHES, QUICKLY - featuring a timer that runs for up to 15 minutes and Hi / Lo program settings for your laundry washing requirements; delivers reliably clean clothes whenever and wherever you need them
It is portable and convenient, which means you can wash your laundry anywhere; When not in use, the lightweight design stores away quietly and incorporates a carrying handle for convenient transportation.
There is no need to connect to a water supply.
It enables you to wash your clothes quickly and includes a 15-minute timer and Hi/Lo program settings for your laundry washing needs; it offers consistently clean clothes whenever and wherever you need them.
The perfect choice for college dorms, RVs, camping, boats and off-grid homes. It is an excellent alternative to hand washing or going to the laundromat. 
Using it is as easy as a-b-c; simply plug in the Wonder Washer, load it with laundry, add soap and water, and close the lid.
Set the timer for 15 minutes and select the hi or lo wash setting depending on the load; read the attached instruction booklet carefully.
Portable Washing Machine – Handy Washing Machine
It is equipped with a powerful motor that runs at 800 RPM to ensure maximum efficiency.
Portable Washing Machine
Remove stains from up to 6.60 lbs of clothing in as little as 15 minutes. A timer can help you conserve electricity and water.
Is it a small bucket? Don't be concerned. Simply change the length of the washing machine. The machine clips on securely thanks to an anti-resistance groove, preventing falls and spillage.
With a weight of only 5.50 lbs, it's easy to transport. The compact design of this machine allows it to fit easily into your luggage.
It is easy to carry because it has a carry handle. Camping and short outings are ideal.
This completely assembled and ready-to-use portable washing machine comes with everything you need to get started.
Your dirty laundry, detergent, a bucket, and a socket are all you'll need. Open it up and begin cleaning!
Portable Laundry Washer –  Giantex Portable Mini Compact Twin Tub
If you live in an apartment or dorm, or if you travel by RV, the Twin-tub washing machine is an excellent choice for doing laundry.
Giantex Portable Mini Compact Twin Tub Washing Machine
Giantex Portable Mini Compact Twin Tub Washing Machine 17.6lbs Washer Spain Spinner Portable Washing Machine, Blue+ White
【Easy to Operate】: This is our portable mini compact twin tub washing machine which is easy for you to operate. Saving so much time that you don't have to go to the laundromat or wash things by hand in the tub.
【17.6LBS Large Capacity】: Washing tub: place clothing in the wash tub section, rated washing capacity: 11 lbs. Run the rinse cycle for the desired minutes, Rated spinner dryer capacity: 6.6 lbs (half of the washing capacity, you may spin twice).
【Semi-Automatic Design Relieves You from Hand Washing】: Using this washing machine, you can set washer timer to15 min and spin timer to 5 minutes per load. You could choose the suitable time when washing based on clothes types. Different from common standard washing machines, you have much more freedom and options to make preprogrammed settings.
One of the two tubs is meant for washing and has a capacity of 11 pounds, while the other is built for spin-drying and has a capacity of 6.6 pounds, providing you with a lot of conveniences.
The tiny washer and dryer set is powered by 120 volts and spins at 1350 RPM.
This portable washing machine is easy to use and has a space-saving design. You may set timers for washing and spinning separately. Don't be hesitant to put it in your shopping cart!
Washing Machine Alternatives FAQs
What did people use instead of washing machine?
There are a few alternatives to washing machines, with the most common ones being handwashing with a bucket and washboards.
Is washing clothes by hand better than using a machine?
Washing machines are convenient and faster, but hand washing saves energy and water, not to mention it's good for the environment.
Is it worth paying more for a washing machine?
While it is indeed true that washing machines are more convenient and faster, when you are living off-grid, you will have to worry about portability, energy costs, water and space. So it is probably better if you go for an alternative.
Wrapping Up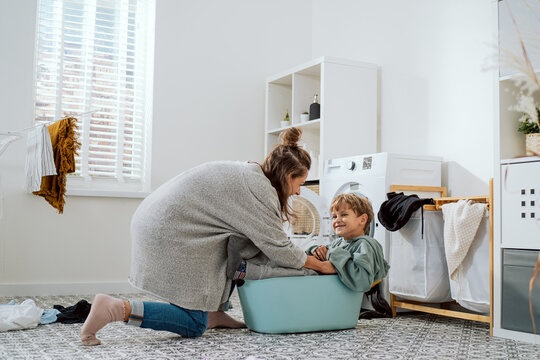 Laundry is something that will always be a part of life. As a result, there are a number of off-grid laundry alternatives to suit a variety of off-grid lifestyles.
A machine alternative will get the job done with minimal trouble if you are well established and know what you're doing when it comes to the power supply and current variation.
On the other hand, the low-tech handwashing option can be just as effective. With the correct tools, you can make it a low-cost, quick, fulfilling, and even enjoyable activity that the whole family can participate in.
Also read: 15 Best Washing Machines For Off-Grid Living