Did you know that you can turn bare backyard into a lush garden with varieties of plants for your bunny? Growing rabbit food is easy, and you have many plants to choose from.
Many rabbit-safe plants exist. They are also nutritious and will keep the bunnies well-fed and healthy. If you have a space in your backyard, you can use it to grow food for your rabbit.
We will look at the most common plants to grow as rabbit food. Continue reading for more information, including the growth requirements of each plant.
What to Grow for Rabbits to Eat?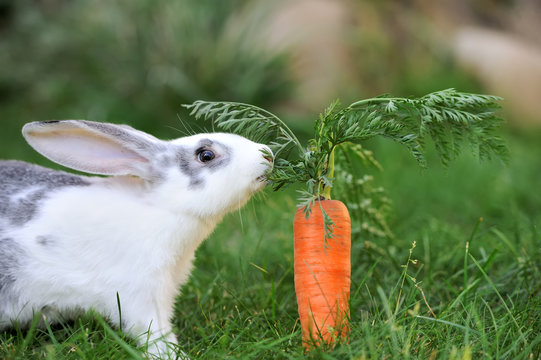 Your rabbits can extract a range of nutrients such as vitamins, minerals, and fiber from the plant materials they eat.
Feeding your rabbit pet different plants with alternating texture and flavor is considered healthy. Rabbits eat fruits, vegetables, herbs, and dried plants.
Some of these plants exist in the wild, but you can actually grow some of them. Rabbits can feed on roots, fruits, stalks, leaves, flower buds, and seeds, which can be grown in the backyard.
You can, therefore, consider growing carrots, broccoli, cabbage, spinach, strawberry, pumpkin, turnip, etc.
However, you should avoid bulbs, tubers, and some seeds. These are either toxic or too starchy for rabbits. Read on for the safest plants you can grow for your rabbits to complement their diet.
10 Plants to Grow as Rabbit Food Types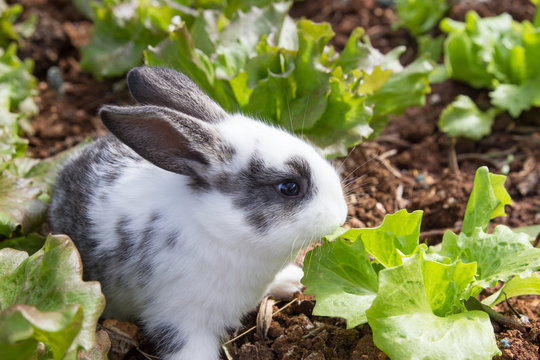 You can turn your backyard into a lush garden with all plants your rabbit requires for survival.
Many such plants exist, but we will only focus on the 10 best and most recommended for your pet. They include the following:
Mangel Beets
Oats
Wheat
Alfalfa
Corn
Carrots
Dandelions
Sunflowers
Nasturtium
Apple
Mangel Beets
Mangel Beets are bunny-friendly plants that are highly nutritious. They are rich in calories, fat, protein, and carbohydrates. It can be the missing piece in your rabbit's diet.
You can feed the green leaves of Mangel Beets to your rabbits, though it should be in small amounts.
The leaves contain small quantities of oxalic acid that can affect rabbits if eaten in large amounts. Roots are more acidic and should be avoided for bunnies.
Like most plants you can grow for rabbits on this list, Mangel Beets require full sun to light shade and deeply tiled well-draining soil.
Plant Mangel Beets in an area with a daytime temperature of about 65-70 degrees Fahrenheit and weed and water them regularly.   
Oats
Oats and oatmeal are safe for rabbits. If you have been adding them to the rabbit's food, continue doing so because they don't harm your pet. In fact, they come with a bunch of health benefits.
Oats are rich in carbohydrates, protein, and fiber. They are also known as heart-healthy foods for bunnies.
You can give them whole or cooked oats. However, you should moderate the quantity you give to your rabbits.
Growing oats is easy if you have optimal conditions. They require full sun to partial sun and can also thrive in partial shade. However, the flowering will be reduced in the latter case.
Plant oats in well-drained loamy soil fortified with compost for a better yield.
They need moderate soil moisture if grown under partial sun or shade. Regardless, you should aim for consistent soil moisture.
Oats thrive in the moderate summer heat and humidity, a USDA zone 9.
Wheat
Wheat is safe for rabbits. It is available commercially as a rabbit concentrate, an excellent source of energy and protein.
Wheat can forage on the wheat plant when still in the garden, or you can harvest them as hay.
Wheat flourishes in temperatures of about 70-75 degrees Fahrenheit. They have a low tolerance to heat, though they require lots of sunshine, mostly when the grains form.
However, it can withstand a low temperature of 40 degrees Fahrenheit and not lower than that.
You can plant wheat for your rabbit in well-drained loamy or loam-clay soil, but it can do relatively well in other soil types.
Alfalfa
Alfalfa is the best hay for your bunny. It is rich in calcium and protein. This plant type also trains your rabbit to become a natural forager.
Alfalfa does well in well-drained soil with a pH value between 6.5 and 7.0. It will not grow in acidic soils unless you add lime to raise the pH value.
This plant grows well in dry areas, requiring about 18-36 inches of water per year.
It, however, requires full sun and temperatures of about 65-85 degrees Fahrenheit to germinate and thrive. If you plan to grow it for your bunny, early April to early May is the best to sow the seeds.
Corn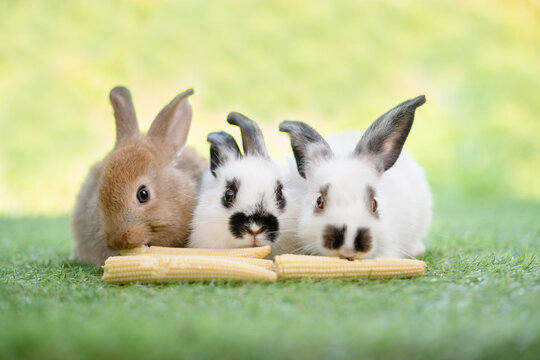 Corn is a starchy rabbit meal. However, you should give low quantities, probably as a once-in-a-while snack.
Too much corn can prove challenging to digest, leading to digestive problems. Otherwise, corn is a great source of carbohydrates that can boost your bunny's energy.
Corns do well in warm, sunny weather, with temperatures ranging from 75 to 90 degrees Fahrenheit.
The rainfall should also be evenly distributed throughout the growing season. Corn can be stressed if exposed to cool temperatures during germination and young plants.
The soil for growing corn should also be well-drained. The loamy or sandy-loam mixture is often preferred.
Carrots
Carrots are a source of food for rabbits. The entire plant can be fed to rabbits. So, if you are not interested in the root, you can just harvest the greens and feed them to your bunnies before root formation.
But if you plan to give carrot roots, do it in small quantities. They are rich in sugar. Consider them as occasional snacks and not the main meal.
Carrots require full sun to partial shade, especially during root formation. You also need loose, well-drained, loamy soil to allow the roots to expand. Rocky or hard soil clumps will lead to deformed carrots.
Carrots are biennial vegetables, but they can be grown all year round.
They do well in different climatic zones, but they prefer nighttime temperatures of 55 degrees Fahrenheit and a daytime temperature of about 75 degrees Fahrenheit.
Dandelions
Dandelions are nutritious plants for rabbits. If they grow in your backyard garden or you want to plant them for this purpose, it is a good choice.
They are rich in vitamin A. Just by your rabbits munching on their leaves, they keep the pet healthy.
Almost every part of the plant is safe for your bunny. Leaves, flowers, and stems can all be part of the rabbit's diet. You can chop them or feed them whole to your rabbit.
Dandelions do best in hardy zone 3-9. They can thrive in sun or shady conditions. But if you are looking for a tasty treat for your bunny, grow them in a partial to full shade location.
The best soil for growing dandelions is rich, fertile, well-draining, alkaline, and deep. These plants are characterized by long taproots. So, they need soft or deep soil that they can easily penetrate.
Dandelions prefer high temperatures of more than 70 degrees Fahrenheit, though they can tolerate a temperature of 50 degrees Fahrenheit.
This explains why you will often see them sprouting on your lawn mid-summer.
Heavy Duty Planting Tools
Good GAIN Garden Tools Set, 9 Piece Gardening Organizer Kit with Storage Tote Bag, Heavy Duty Planting Tools, Digger Gloves, Binding Wire and Pruner, Great Gift for Women & Men Mothers' Day. Rose
All In One:gift idea for men. Including rake, transplanter, shovel, fork, digger gloves with claws and plastic coated wire with cutter, PU leather handle carrier with extra pockets to organize all your gardening needs, spend time tending your beautiful garden.
Durable and Strong Tools: Gardening kit gardening tools is made of the highest quality stainless steel which is more tough, sharp and durable with ergonomic natural wood handles. After hundreds times of testing, easy to use and provide you with a long-time working service.
Luxury Leather Handle Tote: Machine washable Oxford canvas garden tool bag with luxury PU leather handle and 4 honeysuckle pockets , convenient to storage and use. It has 4 extra pockets, can put tools and seeds. More clear and convinence. No worry about missing anything.
Sunflowers
Sunflowers are very delicious for bunnies. If you have them in your backyard with no strong fence, you may have problems with wild rabbits destroying them.
For your pet, these are yummy snacks that can keep them nourished.
Every part of the sunflower is safe for your rabbit. However, don't give many seeds to them because of the high-fat content that can cause digestive problems.
You can chop the leaves or stems and give them your bunny, but not seeds. Instead, use seeds only as a snack and not the main meal.
Sunflowers grow best in a sunny location with well-drained soil. If possible, choose a place with no or less strong wind.
Planting them in groups can also help because of each other's support.
The optimal temperature for growing sunflowers is about 70-78 degrees Fahrenheit. However, it can also flourish in higher temperatures if water is available.
If you need to add fertilizer, consider those rich in phosphorus and potassium. You will not need fertilizers if you have rich, loamy soil.
Also, remember to keep your sunflower garden clean because they don't like competition.
Nasturtium
Nasturtium is a yummy and nutritious plant for rabbits. The entire plant is edible. You can choose to harvest flowers, leaves, stems, or even seeds and feed them to your bunny whole or chopped.
Nasturtium is usually bushy and follows a fence line or a wire. That makes it easy to let your bunny munch on the flowers at the bottom without destroying them.
Nasturtium grows and thrives well in an area that receives full sun, 6-8 hours daily direct sunlight. Although it can tolerate some shady conditions, always strive to make it get enough sun.
This plant also requires well-drained soil of pH levels between 6 and 8. Fortunately, Nasturtium does not require fertilization.
Consider planting Nasturtium for your bunny if you live in an area with at least 70 degrees Fahrenheit and humidity between 30% and 50%. It can also tolerate a light frost but not a cold freeze.
Also read: 7 Effective Ways To Protect Your Plants From Frost
Apple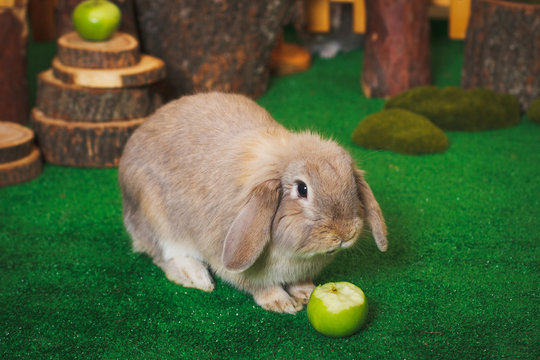 Apples are not only good for your bunnies but also for your family. Apples are nutritious, consisting of protein, carbohydrates, fiber, fat, etc.
They are safe for your rabbits that can feed on leaves and fruits.
During routine pruning, you can feed the leaves to your bunny instead of throwing them away.
When the fruits are ripe, you can cut them into quarters and add them on top of the hay you feed to your rabbits.
Apples do well in full sun. You can consider this if you live in an area that receives at least six hours of sunlight and has moist, well-drained soil with a pH value of 6.0-7.0.
They also require enough water and warm temperatures to thrive. Cold conditions can kill tender buds, and high humidity can cause fungal diseases.
Other Plants For Rabbit
The list of plants you can grow for rabbit food is longer than what we have listed above. Many rabbit-safe plants you can grow exist, and you can plant them in your backyard.
Fortunately, some can also flourish in the wild without your intervention.
Other plants for rabbits include the following:
Basil
Cilantro
Dill
Mint
Parsley
Arugula
Clover
Kale
Spinach
Bell Peppers
Broccoli
Radishes
Zucchini Squash
Blueberries
Raspberries
Strawberries
Also read: How To Grow Your Own Survival Garden – Top 20 best plants You Need
HYDDNice Hydroponic Grow Kit 4 Layers 36 Plant Sites Garden Planting System
Sale
HYDDNice Hydroponic Grow Kit 4 Layers 36 Plant Sites Garden Planting System Hydroponic Growing System Water Culture Garden Plant System Garden Vegetable Planting Tool
【36 Site Hydroponic Grow Kit】: 4 pipes, 4 layers, 36 plant sites,water pump is included,a complete hydroponic growing system, ideal water culture garden system.
【Faster & Cleaner】: The grow system produces high-quality vegetables, herbs, melons etc, shorter growth cycle;No dirt is cleaner.
【Premium Material】: The product pipeline made of food grade PVC-U material,which is safe, environmentally friendly, hygienic, corrosion resistant, low water flow resistance and energy saving.
Wrapping Up
Growing your own plants for rabbits can help you offset the cost of commercial feeds. Choose the ones that can flourish in your backyard garden or lawn from the list presented here.
They are all safe and have nutritional value. However, don't forget to feed them your bunnies sparingly. Digesting them can be challenging, causing indigestion.
Thank you for reading this article at Em Offgrid. We appreciate your time and kindly ask you to share it with your friends. Also, let us know which of the stated plants you intend to grow for your little bunny friend.
Also read:
12 Best Rabbit Breeds for Meat (Giant Doesn't Mean Good)