Wheat berries are delicious and can be used in different recipes. But like other whole grains, they have a definite shelf life that depends on many factors.
The wheat berries storing method plays the most critical part in its shelf life.
How long do wheat berries last, and how can you extend their shelf life? Read on as we explore ways to make your wheat berries last longer while maintaining their nutrient value.
We will give you the best tips and how to use your stored wheat berries.
Wheat Berries Storing and Shelf Life
Ideally, store your wheat in an airtight container in a cool, dry, dark place. The temperature should be between 40 to 60 degrees Fahrenheit, but the cooler, the better.
According to the US Department of Agriculture (USDA), wheat is the most widely consumed grain in the country.
They are eaten in different forms, including whole grains or processed wheat flour for baking.
Wheat berries are intact, whole grains in their natural form. They are packed with many nutrients and are delicious.
Cooked wheat berries have a chewy bite with a subtle, nutty, and earthy taste.
Like all other grains, wheat berries are not available all year round, the reason you may need to store them for future use or when stocking up.
Fortunately, they have a relatively long shelf life if stored properly.
Wheat berries are similar to other heart grains, providing all nutrients any whole grain should have. They have the germ, endosperm, and bran as their nutrient store.
According to the USDA, a quarter cup (48g) of wheat berries has the following nutritional content:
Calories: 170
Fat: 1.5g
Sodium: 0g
Carbohydrates: 32g
Fiber: 4g
Sugars: 0g
Protein: 9g
Zinc: 2.3mg
Iron: 2.2mg
Magnesium: 60mg
The shelf life of wheat berries varies depending on the storage conditions. Packaging also plays a significant role in how long your berries will last.
The shelf life of undamaged wheat berries is about six months, but only if stored in an airtight container.
If you keep it in a mylar bag or any other oxygen-free container, it can last over 30 years. The shelf life is one year in a freezer. Compared with other grains, wheat berries have a longer shelf life.
| | |
| --- | --- |
| Container Storage-Type | Shelf-life |
| Air-tight Container (75° F) | 6 months to over 2 years |
| Oxygen-free storage (75° F) | Over 30 years |
| Refrigerator | 6 months |
| Freezer | 1- 3 years |
Comparison of Container Storage-Type
How To Tell If Your Wheat Berries Are Bad?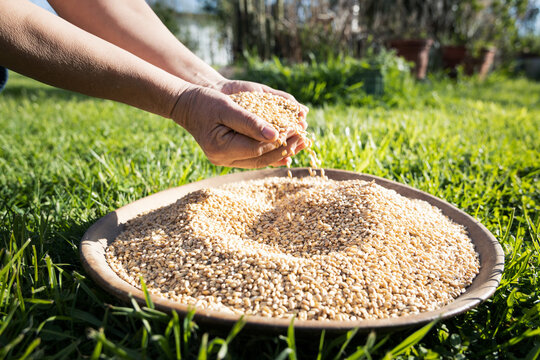 Regardless of the storage conditions, wheat berries still have a definite shelf life. Beyond that, they will spoil. It can be confusing to tell a spoiled grain from a fresh one.
Fortunately, there are three ways you can tell if your wheat berries are no longer fit for consumption.
Wheat berries can spoil from oil rancidity, bugs, moisture, and temperature. Use the following signs to know if they are still good or already spoiled:
Check The Date On The Package
If you buy packaged wheat berries from a local food store, the package has information about the estimated expiry date.
Even if you are in a hurry, just take one minute to check it out before adding the item to your cart.
Don't buy anything whole wheat berries that will expire in a week. Try to get as fresh wheat berries as possible because you may not intend to use them immediately.
You Touch Them and Feel the Surface
Wheat berries should be dry and hard to the touch. If you touch them and feel moist or soggy, they are no longer safe for consumption. That is a sign of mold growth. Just discard the wheat grains.
Smelling The Wheat Berries
Wheat berries are still good if they smell slightly sweet or have no noticeable odor.
But if your berries smell moldy, musty, rancid, or have an odd color or dark spots, it is time to toss them away. They are spoiled and should never be used in any recipe.
Wheat berries can also become stale. Unfortunately, there is no way of knowing that until you taste them, which may be too late.
How To Properly Store Wheat Berries For Maximum Shelf Life?
Storing wheat berries depends on different factors that you should consider at all times to maximize the shelf life.
If you compromise any of them, you may end up with spoiled grains over a shorter time than you anticipated.
Pay much attention to the following 4 issues to properly store wheat berries:
Best wheat berries for long-term storage
Container/pack requirements
Ideal storage conditions for wheat: temperature and humidity requirements
Control the growth of insects
Let's dive into the details of each of these factors.
Best Wheat Berries For Long-Term Storage
Wheat berries vary from variety to variety. If you want to successfully store them long-term, invest your time picking the right type.
First, the moisture content should be less than 10%. Wheat berries with higher moisture content can undergo chemical degradation, grow mold, or encourage bacterial growth.
Secondly, you have to consider the intended use after storage. You can choose between red and white wheat.
Red wheat berries are suitable for making flatbreads, cereal, tortillas, and all-purpose flour. On the other hand, white wheat is best suited for pastries, crackers, and cookies.
Lastly, you may consider the nutritional value of the wheat berries. Hard wheat is higher in gluten (naturally occurring protein) than soft wheat.
Container/Pack Requirements
You can store wheat berries in different containers. Your packaging choice will significantly influence the shelf life of the stored content. Consider the following possibilities:
Cans
Cans are the most ideal storage containers for wheat. They are effective if they are sealed from air and moisture.
They also keep rodents and bugs at bay. You won't have to worry about any damage to the wheat berries, even if you just leave them in the pantry.
If you store your wheat berries in an airtight can in a cool, dry, dark place, they can last for more than 30 years.
Plastic Bucket with Air-Tight Lid
Many homesteaders prefer storing wheat berries in plastic buckets with airtight lids because they are easy to access. However, they are not as effective as other methods.
Water & Airtight Food Storage Containers
Komax Extra Large Food Storage Bins with Lids for Cat & Dog (48.6 Cups) – Water & Airtight Container- w/Handles – BPA-Free (13.4" x 9.8" x 7")
Extra Large Storage Container: Komax Biokips 48.6 cup kitchen storage bin is perfect for storing dry foods like sugar, rice, and flour, or to be used as a pet food container. This extra-large flour container is durable and stackable for an organized, mess-free pantry or closet.
Locking Lid & Handle: These air tight sealable containers for food have a locking lid to preserve your ingredients and keep them away from pantry moths, flour weevils, and other unwanted house guests. Our rice storage container features a strong handle for easy transportation in and out of the pantry.
BPA-Free & Food-Safe: Our flour storage container is made of high-quality polypropylene, a BPA-Free recyclable material that's 100% food-grade. These plastic storage containers with lids are microwave, freezer, and dishwasher safe.
Air can pass through the walls over time, which reduces the shelf life of wheat berries.
If you want to keep your wheat berries in a plastic container with an airtight lid, treat them through the dry ice method (more on this later).
If you store the bucket and its content in a cool, dry, dark place, the wheat berries can last for about 20 years.
However, don't place it directly on the concrete floor. You can make a wooden stand to raise it about one foot off the floor.
Mylar Bags
Mylar bags are specialized storage containers that shield the content from moisture and oxygen.
Mylar Bags, 30x 400cc Oxygen Absorbers, 30x Labels – Heat Sealable, Food Safe
Wallaby 1-Gallon Mylar Bag Bundle - 30x (5 Mil - 10" x 14") Mylar Bags, 30x 400cc Oxygen Absorbers, 30x Labels - Heat Sealable, Food Safe, & Reliable Long Term-Food Storage Solutions - Silver
3 in 1 BUNDLE - Includes 30 5 Mil thick, heat-sealable, 1 gallon Mylar bags, 30 oxygen absorber packets (400cc each) and 30 identification sticker labels (1" x 2"). Perfect for pantry items like flour, sugar, rice, freeze dried or dehydrated foods.
MAXIMUM PROTECTION - Engineered with an added internal layer of aluminum, which provides superior durability and puncture resistance to keep air and moisture out and the food inside fresh. Made with BPA-free, food-grade and safe materials.
LIGHT & AIR TIGHT - At 5 Mil thickness, Wallaby bags PREVENT light and air penetration. Other brands sell flimsy, thin, and poorly made bags that shouldn't be trusted with long term food storage. Wallaby is trusted for emergency preparedness.
To extend the shelf life of the wheat berries, put an oxygen absorber in the bag to eliminate oxygen initially present in the bag.
Wheat berries stored inside a mylar bag with an oxygen absorber can last for about 25 years. Just put it in a cool, dry, dark place.
You may also want to keep everything inside another rodent-proof container or room. Otherwise, they may ruin your wheat berries.
Polyethylene or Plastic Vacuum Sealed Bags
Whole-grain wheat purchased from a local food store is packaged in sealed polythene bags.
4×6 Inch Vacuum Sealer Bags
Vacuum Sealer Bags,Heavy Duty Pre-Cut Design Commercial Grade 4x6 Inch Food Sealable Bag for Heat Seal Food Storage,Smell Proof Bags Boilsafe to 280°F Freezable, Resizable,Reuseable (100Pcs)
【Clear Vacuum Bags】Our sealable vacuum bags are made of high quality materials can withstand high temperature, food save bags Boilsafe,Freezable and Reuseable.
【Suit For Most Vacuum Sealer Machines】These clear bags can Suit for all clip vacuum bag sealing machines directly, the bags are three sides sealed and one side open,with the open top design, you needn't spend time to Pre-treat the bag,but our bags just top open and you also can resize the bags during your using.
【Popular Size Bags for Food Storage】With pre-cut Vacuum Sealer Bags,Heavy Duty Pre-Cut Design Commercial Grade Food Sealable Bag for Heat Seal Food Storage,Smell Proof Bags Boilsafe to 280°F Freezable, Resizable,Reuseable (100Pcs)
If you read the labels carefully, you will find that they can last for about one and a half years in those bags.
However, you can extend the shelf life by keeping everything in a secondary container. You can put them in a plastic bucket with an airtight lead.
That makes them last longer and protects the wheat berries from rodents and bugs.
Plastic or PETE Bottles
You might have plastic water or soda bottles lying around the house. Instead of tossing them into a trash can, repurpose them for storing wheat berries. They may not be the best option.
Reusable Clear Empty Plastic Bottles
Sale
12 oz Juice Bottles with Caps for Juicing (12 pack) - Reusable Clear Empty Plastic Water Bottles - Drink Containers for Mini Fridge, Juicer Shots Includes Labels, Brush & Funnel
12 oz Plastic Bottles with Caps: Our PET smoothie prep containers are 100% BPA-free. Unlike glass, our bottle is light-weight, shatter-proof, and freezer safe. If you plan to reuse our juicing bottles, hand-wash well with warm water, soap, and the included brush. Our small bottles for drinks are not dishwasher safe.
Tamper-Proof Top: Our 38mm lids have a security ring so you'll know if your drinking bottle with lid has been opened. To ensure our drink container is sealed, push down the cap until you hear an audible "click". Then, tightly screw on clockwise.
Small Juice Box: Our little storage bottles for liquids are the perfect size for a mini fridge. Our clear juice bottles are ideal for meal prep, lunch, orange and fruit juices, green smoothies, milk, soda, ginger shot, liquor, and other liquids.
Store the bottles and their contents in a cool, dry place and away from light. To better deter bugs, you can store the wheat with an oxygen absorber or freeze them.
Glass Jars
Most glass jars are transparent and cannot protect your wheat berries from sunlight.
ComSaf Airtight Glass Canister Set of 3 with Lids
Sale
ComSaf Airtight Glass Canister Set of 3 with Lids 78oz Food Storage Jar Square - Storage Container with Clear Preserving Seal Wire Clip Fastening for Kitchen Canning Cereal,Pasta,Sugar,Beans,Spice
[Airtight Food Storage Jar] ComSaf storage jar is made of food-graded glass which is non-toxic, odorless and 100% BPA free. Each glass container is well sealed, equipped with a silicone gasket and a stainless steel locking clamp to make sure your food stay clean, fresh and safe while in storage.
[Just a Glance at What's Inside] Thanks to the crystal glass, you'll always know how much is left in the jar and how the preserved food is progressing without removing the top lid. Plus, the sleek see-through design makes it look more visually appealing on your kitchen cabinet.
[Perfect Single Size] The whole set includes 3 Jars of 1 single size: 78oz. 4.375"x4.375"x10"(L x W x H). Include Free Chalkboard Labels. This glass jar set is of the high quality and designed for your convenience. Perfect size for everyday home use.
Apart from that, they are excellent in keeping the content moisture and oxygen-free. They are also effective against rodents and bugs.
So, store the glass jar and content in a cool, dry, dark place. Also, ensure the lid is airtight.
Mylar Bag Lined Plastic Bucket
Apart from cans, mylar bag-lined plastic buckets are another effective method of storing wheat berries for a long time.
The mylar bag on the inside of the walls prevents any oxygen and moisture from penetrating. The plastic container deters rodents and bags.
To extend the shelf life even further, consider adding an oxygen absorber in the bag and squeeze as much air as possible out of the bag.
Ideal Storage Conditions for Wheat: Temperature And Humidity Requirements
Store wheat berries in cool, dry, and dark places. The temperature can range from 40 to 60 degrees Fahrenheit.
You can consider a root cellar or basement as the ideal storage place as they tend to be colder.
Avoid storing wheat berries in hot garages or attics. The high temperatures in these areas will decrease their shelf-life. Wheat berries can survive at room temperature. But the cooler the room, the better.
Control The Growth Of Insects
The most common enemy of wheat berries is insects. If you can control them, your grains can stay fresh for a long time.
Fortunately, there are ways of effectively hindering the growth of insects. They include the following:
Oxygen Absorbers
Bugs that attack wheat berries are also animals that require oxygen to survive. If you want to keep them at bay, make the storage container or bag oxygen-free by adding oxygen absorbers.
Without oxygen for respiration, the insects cannot multiply.
Vacuum Sealing
Vacuum sealing means driving out air from the storage container and making it airtight. You can use a mylar bag or vacuum bag.
But that depends on how long you want to store your wheat grains. Without oxygen in the storage container, bugs suffocate to death.
Dry Ice Treatment
Dry ice (solid carbon dioxide) kills both bugs and their larvae. However, they are not effective against eggs. So, you may use it with other methods.
Freeze/Thaw/Freeze Method
Freezing creates unbearable conditions for insects to survive. Put the wheat berries in a 15-pound moisture-proof container and place them in a freezer for 2-3 days to kill bugs.
Next, allow it to thaw at room temperature for another 24 hours. This encourages eggs to hatch.
The second freezing is to eliminate the newly-hatched larvae. Do that for another 2-3 days before allowing it to return to room temperature for final packaging and storage.
You don't need to use this method if using mylar bags.
Also read: https://emoffgrid.com/foods-with-long-shelf-life-for-your-pantry/#Whole_Wheat_Grains
How To Use Wheat Berries
Wheat berries have many uses. They are some of the most flexible foods for long-term storage emergencies or survival.
You can just take them from storage any time to eat them as fresh sprouts, dry and bake, or boil and eat them.
You can also ground them into flour and use them in your baking recipes like bread, pasta, and pastries.
Wrapping Up
You can enjoy wheat berries all year round if you store them properly. They have a shelf life of about 6 months in a pantry if stored in a sealed container or bag and one year in a freezer.
But you can make them even last longer by using mylar bags, oxygen absorbers, and other methods. Just remember to keep them in a cool, dry, dark place.
Thank you for reading this article at Em Offgrid. We appreciate your time and request you to share it if you found it informative. Also, explore the site for related content.
Also read: 32 Important Foods With Long Shelf Life For Your Pantry (or Off-Grid Living)